RWC 2019 Previews: Pool B
5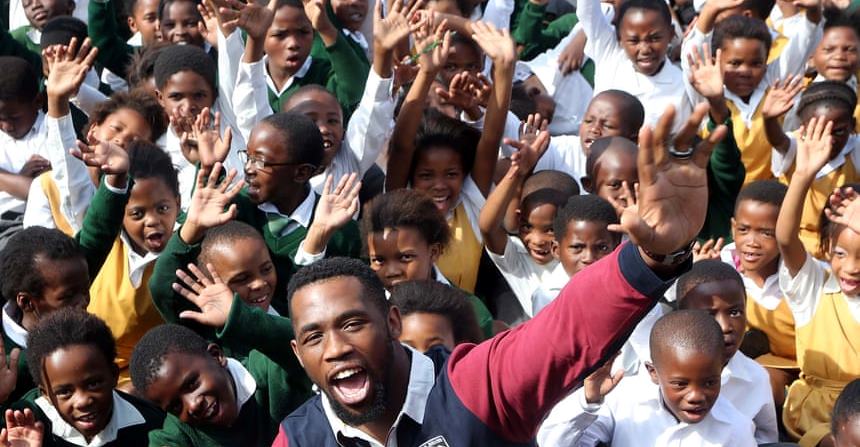 By Aiden McLaughlin 
New Zealand (World Ranking 2)
Just like in 2015 when they played Argentina, the biggest challenge for the All Blacks in pool play is their opening match; the difference compared to 2015 though, is that there is a more of a feeling in some quarters that they might actually lose this one. Could this South African match actually be a dress rehearsal for the final in six weeks' time? There's plenty of rugby to be played first, so let's take it one step at a time. Victory here is important for two reasons; firstly, it breeds confidence and the good old m word – momentum. Secondly, winning means, in all likelihood, an easier quarter final against Scotland or Japan, instead of playing Ireland.
Over the last four years, the All Blacks have been more fallible than during the previous cycle, but they still arrive here as favourites. They are clearly holding things back, but the other teams are too, and with the renaissance of South Africa in recent times added to the improvement in the Northern Hemisphere, Hansen & Co's evolving tactics need to be spot on. After the opening match, expect plenty of tinkering in the remaining pool matches as they aim to peak again for the quarter final. There might be a couple of relatively disappointing performances, even scorelines to put the nation on edge, but All Blacks fans shouldn't be too worried – it'll be no different to 2015 and look how that turned out.  Look for the obvious names to shine; Savea, Beauden Barrett, Aaron Smith. At the time of writing the first choice midfield and back three aren't known but whoever is chosen, expect the quality to make its mark as the All Blacks go for an unprecedented three in a row.
South Africa (World Ranking 4)
Doesn't the 57-0 loss to the All Blacks in 2017 seem a long time ago now? With Allister Coetzee's departure in early 2018, Rassie Erasmus has brought new life to the Springboks through good organisation, a strong set-piece and an aggressive rush defence. A home series win against England in June 2018 was followed by an improved showing in the Rugby Championship including that win in Wellington. The European tour last November saw wins against Scotland and France but losses to England and Wales. But if the marker to watch is recent performances against their main pool rivals, then they mean business.
The aggregate score in the last three encounters between the teams is 82-82.
There is plenty of concern around the rugby world regarding the Springbok renaissance, but although a quarter final place is all but guaranteed and they are unbeaten this calendar year, I have my doubts about them going all the way. Yes, they have great quality throughout their first choice line-up  with captain Siya Kolisi, hooker Malcolm Marx, flanker Pieter Steph du Toit, and half back pairing Faf de Klerk and Handre Pollard just the tip of the iceberg, but I worry for them if they lose a couple of those players through injury.  If, as I expect, they lose to the All Blacks this weekend, I'm expecting an Ireland team to be waiting for them and that will not be the forgone conclusion that many assume it will be.
Italy (World Ranking 14)
Florence, November 2016, must feel like a very long time ago for Italy's Irish coach Conor O'Shea. A 20-18 scoreline was their first win against South Africa. Italy had been hammered by the All Blacks in Rome the week before (68-10) so to turn things around in seven days was impressive, but since then they have failed to win any of their Six Nations matches, making a total of 22 matches in that tournament without a win.  The squad averages less than 30 caps per player with O'Shea saying:
'There's lots still to do, lots of changes still need to be made to allow us to fulfil our potential, but boy we have a good group of players…this last year for me has been the turning point for Italian rugby…you can see the depth and competition in so many positions and we know where the young players are coming up behind'
Warm up matches have seen defeats to Ireland and France, and a victory against Russia. Third place in the pool has to be the objective to ensure automatic qualification for 2023, but with constant calls for Italy to be subjected to a promotion/relegation playoff in the Six Nations, competitive performances against the top two in their final two games are important, to at least show progress. That average caps number is slightly distorted when you remember Sergio Parisse, one of the great players of his generation, is entering his fifth Rugby World Cup with 140 caps under his belt. Two matches will see him overtake Brian O'Driscoll into second place with only Richie McCaw's record of 148 ahead of him. He deserves a decent World Cup send-off but there are serious doubts as to whether his teammates will be able to help him get it.
Canada (World Ranking 22)
Canada have maintained their record of appearing at every Rugby World Cup; but only just.  They qualified via the repechage tournament in Marseille last November, by defeating Kenya, Germany and Hong Kong. Having had Kieran Crowley at the helm for the 2011 & 2015 World Cups, Crowley's departure to Benetton Treviso at the start of 2016 led to a short stint in charge for Mark Anscombe, but after only two wins in fifteen tests, he was replaced by incumbent Kingsley Jones. The Welshman arrested the slide and has got them to Japan, but their form is poor, with only one win in 2019, at home to Chile. Jones' squad is predominantly made up of players plying their trade in the North American professional league, although their captain and star player is Chiefs backrower Tyler Ardron.   Classy Glasgow Warriors winger DTH van der Merwe will be playing in his fourth World Cup. With seven wins in previous World Cups, the ambition will be to pick up two wins this time around, but the reality is far more likely to be one win, two heavy defeats and a competitive loss to Italy.
Namibia (World Ranking 23)
Namibia head into their sixth consecutive World Cup with a record of played 19, lost 19. Their narrowest defeat came four years ago when they lost to Georgia 17-16. Qualification was secured via the 2018 Rugby Africa Gold Cup, where they beat Morocco, Zimbabwe, Tunisia, Uganda and Kenya. They have stability in the form of Head Coach Phil Davies and half back Eugene Jantjies; Welshman Davies has been in charge since just before the 2015 tournament and Jantjies will be playing in his fourth World Cup. Getting warm-up games has been a challenge; over the last month they have played South African teams, beating a Sharks Invitation XV, followed by 6 and 4 point victories in consecutive weeks over the Southern Kings. Their last international opponents were in June when they took part in the Nations Cup, where they lost to Russia and Argentina B, but beat Uruguay . Although largely a home-based squad, four of the squad play in South Africa, four in France, with one each in England, Wales & Romania. It's a very tough task for them, with respectability their main aim. Beating Canada has to be the objective on the last day of pool play to almost certainly see who finishes fourth and fifth.
Key Game: New Zealand v South Africa, 21st September. The first game and easily the most important. Lose and questions will be raised far and wide about that team's ability to go all the way – and don't forget, no team has ever lost a match in pool play and gone on to win that tournament.
Pool Prediction: Once that first game has been completed, New Zealand and South Africa will be thinking firmly about the quarter finals. I'm taking the defending champions to win by 7-10 points on Saturday night and top the group. I'm not expecting the other three teams to put up much of a fight. The World Cup drought is likely to continue for Namibia, and Canada will struggle to pull of the win against Italy. For me, the pool standings at the end will reflect their respective positions in the World Rankings.
Follow Aiden on Twitter