Something Old, Something New etc…
1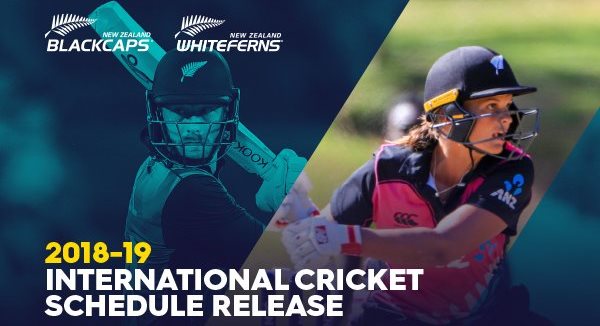 Cricket Schedule Announcement Day is an interesting time in the New Zealand sporting calendar.
It is a day for people to complain, to spot the trends, to be reminded of who's boss in world cricket and, maybe, a time to start looking forward to the summer.
The 2018/9 schedule was released today and there's a bit of all of the above about it.
The season is bookended by a couple of test series with a couple of months of white ball cricket in between.  Whether you like it or not, that's standard these days.  What is also standard is that a lot of the detail was telegraphed and anticipated.
There are few aspects that are very 2018.  For the first time there will be double headers of men's and women's T20s against their Indian counterparts.  And as per the recently signed NZC-NZCPA Master Agreement, there is a New Zealand "A" component with three four-dayers and three 50-over fixtures.
Then there is the reminder of who funds international cricket.  The fact that the India white ball tour was going to involve Day-night fixtures only was understood months ago; Star Sports keeps the show ticking.  The request for a later start time was a more recent development.
NZC rightly acquiesced to this, with the exception of Eden Park, and its famous Residents Association.  Well kind of; the men's T20 remains a 7pm start, but the lack of an ODI is quite a glaring compromise
If required, the state of cricket facilities in Auckland has been highlighted.  But while Auckland's diet of cricket this summer is sparse (2 * Men's T20s and 1* women's T20) there is the unexpected benefit that the T20 double header against India is at friendlier times than elsewhere.
For the rest of the country (North Island) there is no real need to take leave to watch any of these matches, but you may need to take the following day off if you're not getting home until after midnight.
There were a couple of rumours that did not eventuate.  There is no Day / Night test (Bangladesh dragging their heels there) and Bay Oval will need to wait longer for its first test match.
The people of Bay of Plenty can't really complain though; Bay Oval gets four ODIs between 3rd and 28th of January.  The last one will be an effort though; not only is it the last ODI of a string of them (see Super Rugby in Christchurch right now), but it will finish at 11pm on a Monday.  They also get a White ferns ODI, a NZ "A" four dayer and all three NZ "A" 50 over matches.
It is unclear whether this glut of matches is so that half the team can walk to the matches.
It is not a great summer for the South Island away from Christchurch with solitary ODIs for Dunedin and Nelson.  The lack of lights was the reason they missed out on the India matches, but we can expect some grumbling from those regions.  In this increasingly competitive environment venues and cities need to get noticed.