Sporting Pics of the week :- 27 June
0
by Sportsfreak
in Uncategorized
— 27 Jun, 2014
There is something about Miroslav Klose and World Cups.  15 goals in the last four World Cups, at a time when England have managed 15.  Here he is celebrating his vital equaliser against Ghana.
While Chile's Andro Vidal developed a familiar looking head.
For posterity, that moment when Luis Suarez got tooth ache.  Poor guy; having a Compulsive Eating Disorder is not easy.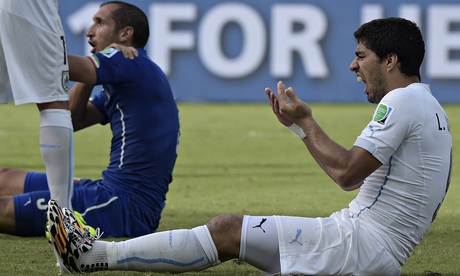 Algeria has brought something different to this World Cup.  Religious goal celebrations.
Mexico played Croatia in what was effectively a knock-out match during the week.  And a nation stopped to watch.
They are following the World Cup in Saudi Arabia too.
And in Seoul.
On to the fans at the games themselves.  Japan may have been devoid of spark on the field (blame Honda) but their fans were simply superb.
Columbia has made the final 16.  Which is good because it means we should get to see more of their Nazi Weed Pope fan guy.
Not sure this Mexican guy is all there though.
Meanwhile, the England v Sri Lanka test series specialised in cliff-hangers with both matches coming down to the last over on Day 5.  This is what contrasting emotions look like.
Finally, the July edition of Wellington's Fishhead magazine is out, and the feature is all about football.  Get on it.