Sporting pictures of the Week :- 13 February
0
Senegal won the African Cup of Nations during the week, and this is one impressive victory parade.
Fair to say that OSH were having the day off.
In a congested field, this Gabonese supporter probably won the best dressed fan contest.
Still in West Africa, Horse racing in Burkina Faso.
When it rains at the cricket it's a chance for team Social Media accounts to publish art house photos.
NHL mascots having a get together in Vegas.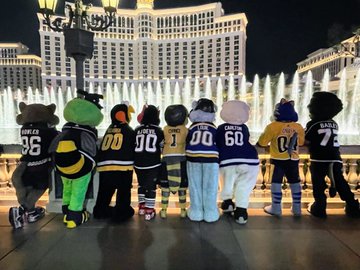 Ricky Ponting launches his new wine label with a relaxing photo.  Except he doesn't look relaxed at all.
From the Archives.  50 years ago the New Zealand women's team beat Australia in a test match.
The Oval in a970.  How's this for a line up.  Brian Johnston, John Arlott, Trevor Bailey, Bill Frindall, Neil Durden-Smith and Richie Benaud.