Sporting Pictures of the week :- 19 July
0
The referee blows for full time in the World Cup final, and that is quite a busy scene with a decent range of emotions.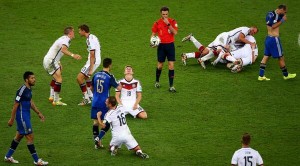 Afterwards Angela Merkel got into the fun of it. Not a three-way handshake in sight; she goes to the less high-profile matches too.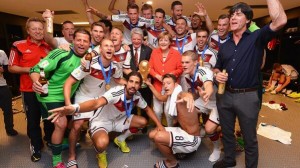 It wasn't a bad day out for Mario Götze. Coming on as a sub to score the winning goal is one thing, and it even seemed to impress Rihanna.
It is Germany so the construction work must go on. And that bus; painted in advance?
Nico Rosberg wanted to celebrate too. He got a special helmet painted up, with the World Cup at the top. BUT FIFA SAID NO.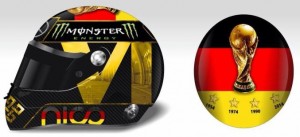 The NRL has announced something called the Super Hero round for later in the season. Here is what the Melbourne Storm will be wearing. Seriously, that is going to happen.
Not a great week for Craig Kieswetter; after wearing one from David Willey in a county cricket game.
And it doesn't get prettier for the England cricket team either. Those batting collapses ranked.