Sporting Pictures of the week :- 29 August
0
So we say farewell to the Junior Olympics.  To help you in future pub quizzes, the name of that mascot was Lele.
It hasn't been the greatest year for Caroline Wozniacki.  Getting dumped by that strange little Irishman, and then the strange little Irishman takes his game to another level.  Then, at the US Open she gets her hair caught in her racket.  Ouch.
Rugby rules can be complicated but not here.  Last Saturday, Wellington put in possibly its worst ever performance in an NPC match, getting humbled by Northland.  No better example of dumb rugby than this penalty.  A truck and trailer with the trailer halfway back along the motorway.
Here's an unlikely one.  Todd Blackadder and other members of the Crusaders coaching staff visiting the NZ Drama School in Wellington; looking at the learning environment at the school during the Festival of New Work.  Always thinking, those Crusaders.
Earlier in the month Legia Warsaw smashed Celtic 6-1 to advance to the next round of Champions League qualification.  Celtic squealed about an ineligible player who was on the field for a minute, and the barons at UEFA came up with an algorithm that meant Celtic progressed to get eliminated at the next round.  Anyway, those Warsaw fans are not too happy.
West Ham fans.  That ice bucket challenge thing is a bit odd, but surely this sight will raise a smile.
We hate the Central Coast Mariners.  They are mean-spirited and they won't let Michael McGlinchey join the Wellington Phoenix.  They also have Zac Anderson; finalist in Cleo's Bachelor of the Year competition.
Louis Van Gaal.  Nobody said it was going to be easy.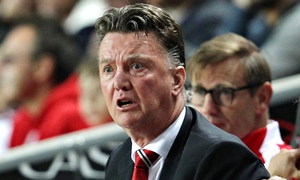 Samuel Eto'o signed for Everton this week.  And he's dressed for it.
More from the Footballers from the 70s series.  Here is Denis Law being mean to his children.  And that is before you get to the carpet / curtains combination.