Sporting Pictures of the Week :- 6 March
0
The big match last weekend.  Australia came to Auckland, and it was a sell-out.  But really Brad Haddin; was that necessary? (Photo taken by  Ruth Thielke)
They brought their fans too, although you don't get much enjoyment out of a beer bottle with the cap still on.
You will go a long way to find a better poster than this.
A couple of players with names picked at random.
Martin Crowe at Cornwall CC for the last time.  Nothing more to add
 Cricket in Nelson.  One of the classier parts of New Zealand.
From the same game.  What's the duck about?  In fact, is it actually a duck?
Dallas Stars goalie Kari Lehtonen takes to the ice before facing the New York Islanders.
RIP Dave MacKay during the week. Spurs and Scotland legend showing filthy Billy Bremner who's boss; complete with El Tel cameo.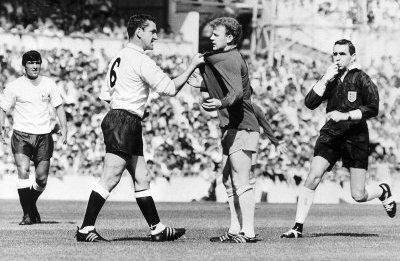 From the Archives.  1970s chic.  Johan Cruyff, Total Football, and check out what the cameraman is wearing.
WARNING
The final picture involves Shane Warne and you know what his pictures can be like.
So scroll down with care; this one is worse than most.
Sure you want to see it?