Statistics and Stories – 1987 Rugby World Cup
1
Keith Quinn has a new book out.  In this book you will find: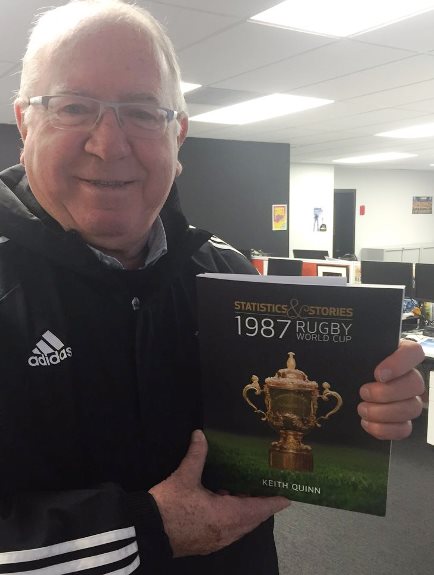 Full details of every match played in New Zealand and Australia during the 1987 Rugby World Cup, and a never before published index of players from each of the 16 competing teams. And a referees index too.
A timeline, painfully slow at times, which led to the decision by the IRB to stage the first ever Rugby World Cup <Ed: You know this is a highlight>
Many stories of a statistical nature, eg The struggles Ireland had in 1987 in finding a national song to play (they used "Rose of Tralee" for some games!)
Who had a perfect kicking record in the tournament? (It wasn't Grant Fox)
The NZRU making no budget allowance for an opening ceremony before the first game in Auckland.
The first Rugby World Cup having no individual match programmes for the 32 games.
The melancholy Fijian team playing while their homeland was locked in a coup d'etat.
The Tongan royal family giving approval for the first time for their national team to play rugby on a Sunday.
How a touring schoolboy was drafted from the grandstand into his country's World Cup team for their last tournament game.
The story of one player who appeared in the 1987 tournament playing under three different names…
All of the above and much, much more is here in 140 pages of Statistics and Stories of the Rugby World Cup – 1987­ by Keith Quinn.
This will hopefully be the first in an eight part series (and growing)
The author is New Zealand's leading rugby historian and author, and you should support this so all eight books are written and collected.
Keith Quinn is an old-school broadcaster, and he is doing this in a Social Media way.
For now this is a bit of a cottage industry.  Message Keith with an order and make sure this national chronicle takes place.
And, let's face it, you'll enjoy the read.