Ten and Ten Equals 24-19
2
By The Spotter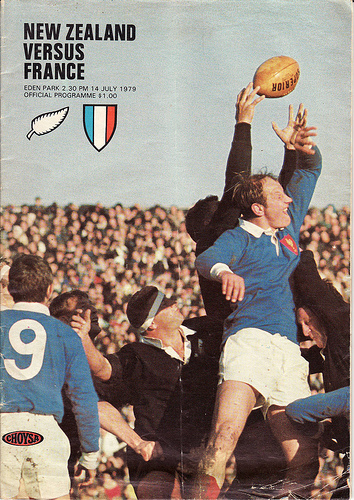 Two sublime performances thirty-seven years apart, given by two flyhalves slim in stature and fleet of foot was also perfectly paralleled by the same scoreline, 24-19.
The first coming in Auckland in July 1979, the second in Paris in November 2016.
World player of the year Beauden Barrett was even freakishly better than usual in breaking Gallic hearts with killer intercepts in the 2016 version; firstly in intercepting at high velocity an attacking kick from midfield and near the All Blacks' twenty-two in the early stages of the first half, and secondly in scoring a 'fourteen point try', which turned out to be the decisive score of the match beyond any doubt whatsoever.
Would the All Blacks have been foie gras on a pate plate yesterday if Barrett hadn't had that performance like he did? Hard to know exactly, but highly possible.
A delve into the history books though uncovers a performance in the number ten arguably even more influential than Barrett's brilliance. It was put on by Alain Caussade for France, at Eden Park on Bastille Day, the 14th of July 1979. On that occasion the French were the ones who were victorious 24-19 in probably one of the greatest-ever test matches played on New Zealand soil.
France scored four tries on that famous afternoon for them, with Caussade scoring one and being a huge catalyst in the final two during a rampant French second half which eerily mirrored scenes of deja vu twenty years later on Twickenham for us, (Let's not go there, apart from mentioning that that match invoked about the most embittered and over-reactive fallout to defeat in this nation's Rugby history). Hopefully that will be one learning that will never be forgotten by anyone.
You may wish to look away now, but here are the freewheeling French cutting our defence to shreds in that '79 match (complete with an excitable French commentary, memorable tries and some truly awful goalkicking):
What are we to make then of some very impressive wins for the All Blacks in 2016, especially during the Rugby Championship? Ratings are often entirely over-rated as a method of judgment, so again, let's not go there. It is however safe to say that against a highly ordinary Australia and the current basket case of international Rugby Union, the Springboks, those huge margins of victory to the All Blacks don't appear quite so stunning anymore.
On the other hand as the great gruff one Mr Hansen said, to lose close to 900 caps with the moving on or retirements of McCaw, Carter, Smith, Nonu, Mealamu and Woodcock and still end their season with just one defeat was a more than good effort. And taking into account the gifted talent on the periphery such as the Ioanes and the Barretts, the future looks better than a muffler across the mouth of an Irish Rugby reporter.
The overall talent pool is excellent. Take Lima Sopoaga- a real talent in his own right and a budding superstar of World rugby; the poor guy often can't even make it onto the bench.
And they say we should be worried about the Lions. I would contend it should be a lot more the other way around. We have home advantage and their itinerary is a suicide mission in disguise. Get your bets on us now before the TAB goes really stingy on everyone.
talltree@xtra.co.nz to respond.