Test Match Therapy: Those That Stopped a Nation 2
0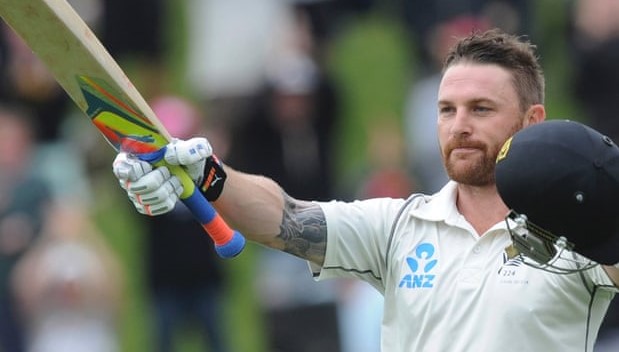 By Euan McCabe.  Part 2 of a 6 part series
India at Wellington, February 14-18, 2014
NZ 192 & 680/8
India 438 & 166/3
Match Drawn
I remember the morning of Tuesday, 18 February, 2014 as if it were yesterday.
 The day dawned fine and calm in Wellington. A buzz of anticipation built as the late morning start time at the Basin Reserve cricket ground approached. People had arrived at the ground early to make certain they would be there to both witness and be a part of history. Thousands populated the Eastern embankment and surrounding areas, most standing in readiness, eagerly waiting for Brendon McCullum to emerge from beneath the Vance Stand.
 And you could sense that the eyes of the nation were also fixed on its second-busiest traffic roundabout. In the middle of it, the New Zealand captain would shortly resume on 281 not out, looking to become just the 24th person in 137 years of Test cricket to score a triple century. And the first New Zealander. We had come close before: Martin David Crowe's famous 1991 dab to third man that ended up in the gloves of Hashan Tillakaratne; Stephen Fleming's undefeated 274 in Sri Lanka in 2003, when captain Fleming put his team first by declaring the innings closed to progress the game.
Brendon McCullum was not to be denied, however, eventually back-cutting a boundary through gully to reach 300 and go where no New Zealand batsman had gone before. The Basin Reserve rose as one in prolonged applause. The emotion was palpable. And how appropriate that this historic bastion of the game in New Zealand got to host this great moment. For it was on this very ground back in 1930 that local hero Stewie Dempster recorded New Zealand's first Test hundred; his name now immortalised in metal across the top of the Kent Terrace gates. It was also the place where Crowe's shoulders had slumped in disbelief when dismissed on 299, but also where Richard Hadlee achieved the bowler's 300 and New Zealand won its first Test against England; reminding everybody how history deals in both the good and not so good.
What a personal moment for me as well. I went to my first Test match at the Basin Reserve in 1976, also against India, and have attended at least a part of every Test played at the ground since, now 52 in total. And should people ask me what were the greatest moments I have witnessed at the Basin, McCullum reaching 300 would surely rank somewhere near the top.
Well, it would. If I had been there to see it.
But I was not: I was at work.
I should have learnt my lesson two years earlier when South Africa visited the Basin in March 2012. Sensing that our brittle batting line-up of the time was unlikely to last long against Philander, Steyn and Morkel, I picked the scheduled fifth day to make a short trip to Auckland. I ended up missing one of the gutsiest match-saving hundreds ever played at the ground.
For 328 minutes Kane Williamson's body was pummelled like a steak on a chopping block. And his mind put through a mincer for good measure: 102 not out off 228 balls, dropped four times, struck on the body several times. It was probably one of the ugliest hundreds going around. But it was also a critical marker for the immediate future of New Zealand cricket. Some batsmen have genuine talent, others great courage, some dogged tenacity, enormous patience or sound judgement. But the great batsmen have all of these qualities, and Kane Williamson signalled that day that greatness lay just around the corner.
At least I waited a bit longer in 2014 before pulling the plug on our latest brittle batting line-up. Lunch on Day Three to be exact, when New Zealand was 87 for 4 in its second innings and still 159 runs short of making India bat a second time. This was Sunday and I rang work to advise I would be returning on Tuesday. Day Five would not be required. When Corey Anderson was then dismissed shortly after the resumption, leaving New Zealand at 94 for 5, I was tempted to ring back and say I would be returning on Monday.
Nor was Brendon McCullum helping the situation. He was dropped three times early in his innings – leaving me to wonder whether he also had a place of work to urgently get back to. Or perhaps the Indians owed a Bookmaker somewhere? The last of these dropped catches was such a dolly caught and bowled by Ishant Sharma that it prompted thoughts of Geoffrey Boycott's grandmother. And she remained relevant when it was suggested later that Sharma's hair had got in his eyes.
But it was not long before New Zealand's now-famous record sixth-wicket stand began slowly shifting up through the gears. I managed to miss both McCullum's first 100 and B J Watling's first 50 – I was now down the road at a Phoenix game; but the stumps position of 252 for 5 still looked more 'at least we'll get some cricket tomorrow' as opposed to match-saving.
It turned out there was a lot of cricket the next day, as the ding dong noise from the ground announcer regularly reminded us. And I saw it all this time – McCullum's 200 and Watling's 100, a 200-run stand, a 300-run stand, then a world Test record sixth-wicket stand. When the 352 run partnership was finally broken, a wicket had become so unexpected that Watling's dismissal seemed an imposition on everybody's ongoing enjoyment of the day. How things had changed from 94 for 5.
But one of the numerous announcements that day caused a sense of panic within me – the one when McCullum reached 250. Because this Test was still far from safe and the New Zealand captain would therefore need to continue batting. And he also possessed the one magical element that without had scarpered so many triple century ambitions – enough available time left. But I did not have enough available time left. McCullum was going to land somewhere between 250 and 300 at stumps; a reality that eventually scarpered my triple century ambitions.
So I got to watch this monumental moment in our cricket history like so many other New Zealanders that day – huddled around a television.
But a television located just a few kilometres up the road from my spiritual home, the Basin Reserve. At one point I contemplated phoning the ground and requesting that my seat be left vacant as a mark of respect. And I even toyed – forgive me, the pressure of the situation meant I was not thinking straight at the time – with the treasonous concept of McCullum being dismissed short of 300 just so I would not have to carry this personal burden around with me for the rest of my life.
It was a mournful feeling. Which is probably most why I remember Tuesday, 18 February, 2014 as if it were yesterday.
Follow Euan on Twitter
Test Match Therapy series