Test Match Therapy: Those That Stopped a Nation 3
0
By Euan McCabe:  Part 3 of a 6 part series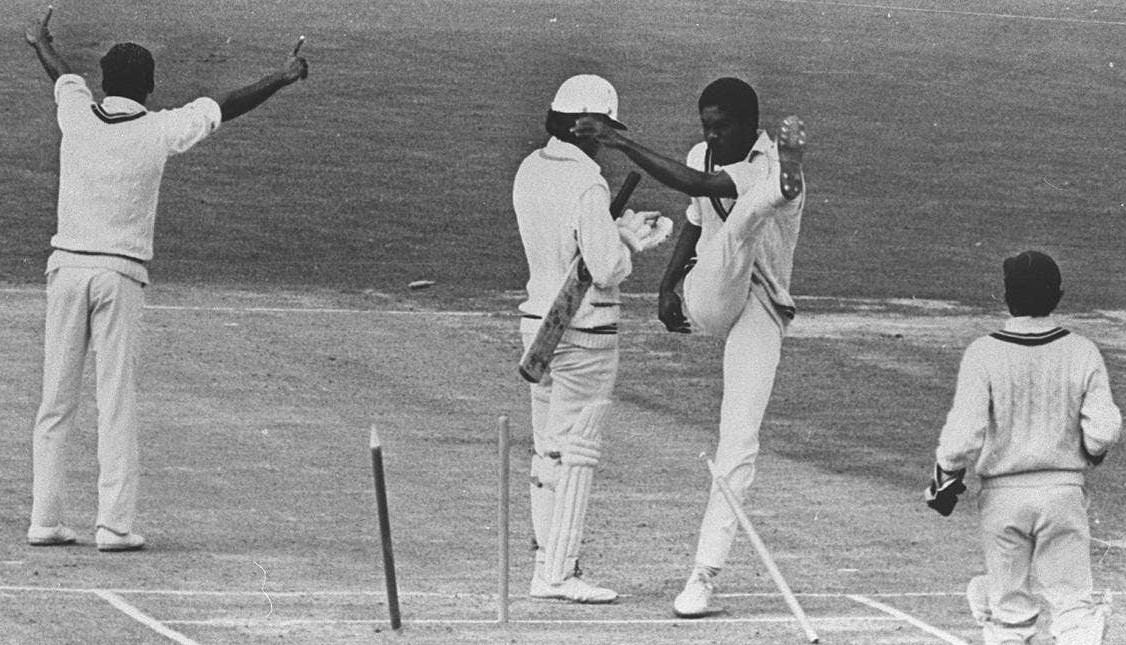 West Indies at Dunedin, February 8-13, 1980
West Indies 140 & 212
NZ 249 & 104/9
New Zealand won by 1 Wicket
 In the days before Pay television and streaming platforms, a cricket fan's most essential piece of equipment was the transistor radio. I carried mine pretty much everywhere during summer and even devised a clever system which enabled me to listen to cricket in the classroom without being detected. I hid my radio beneath my desk and ran the earplug cord up through the inside of my jumper arm, keeping the earplug hidden by placing my hand over my ear and then casually resting my elbow on the desk. And who claims my generation struggles with mastering technology?
Clive Lloyd's West Indian tourists of 1979-80 may have arrived off the back of an Australian tour and without the great Viv Richards, but they were still one of the strongest cricket teams to visit this country. They were certainly expected to be far too good for New Zealand. So imagine my shock when a bitsy cricketer called Jeremy Coney hit a boundary off the third to last ball to win the only One Day International between the sides. I was jubilant. A win over the mighty West Indies – the first in my cricketing lifetime. It simply could not get any better than this.
So imagine my shock when things did get better. An 11-wicket virtuoso from Richard Hadlee meant New Zealand pretty much controlled the first four days of the First Test in Dunedin, to the point where it appeared the last day would only be required for mopping up purposes. Instead it turned out to be a day when my transistor radio almost buckled under all of the pressure and attention.
New Zealand, chasing just 104 to win, pitched a middle order collapse during our lunch break at school that left an ever snowballing horde of people surrounding me and my radio. It is not an overstatement to say I was never more popular at school. But these were hardly the circumstances I would have chosen – New Zealand left in tatters at 54 for 7.
Never has 50 to win looked more improbable. Especially when you explain it like this: Their bowlers with a ball v. Our bowlers with a bat. School work that afternoon was sensibly suspended as we all suffered through the agonising process of every one of those 50 runs being eked out amidst suffocating tension and falling wickets; finally cumulating in an eruption of celebration after being forced to wait for the radio commentary to confirm that the winning run – Stephen Boock and Gary Troup's stuttering leg bye – had actually been completed successfully.
It ensured that the messiest and most indecisive winning run in Test match history would never be forgotten. And congratulations to our school teachers that afternoon: Children should be taught how to deal with anxiety and I cannot think of a better way than forcing them to listen to the New Zealand cricket team chasing small winning targets.
Follow Euan on Twitter
Test Match Therapy series