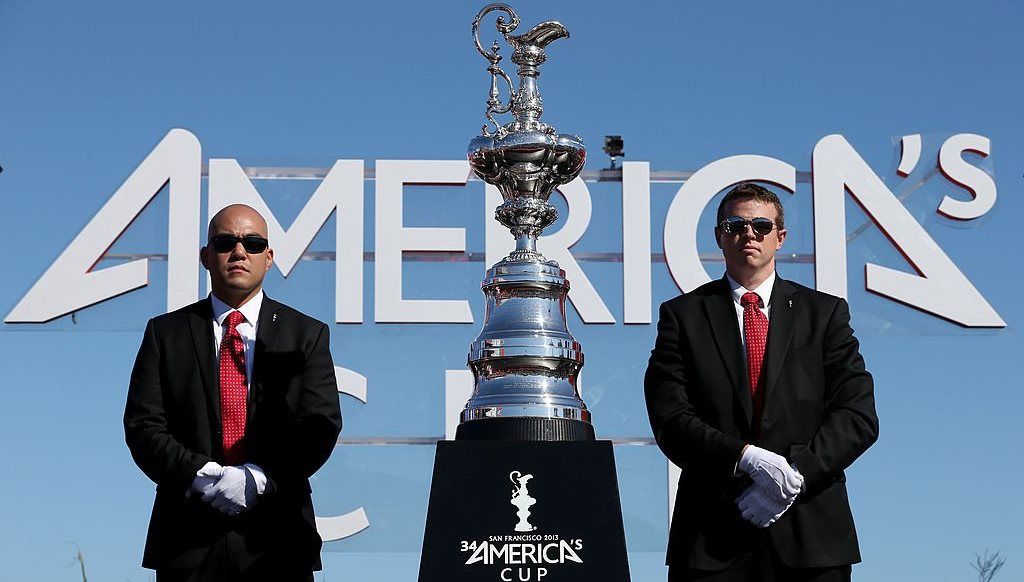 By Harbour Heather
I must've missed something.
I live close to a sailing club which, each weekend, is so busy, it becomes hazardous to drive past at certain times. Young people and their parents out enjoying our harbour, and being active. I'm all about that. But has there been a silently-rising interest in sailing across the country, encouraging and enabling this enjoyment of the America's Cup which is currently everywhere I turn?
What I'm about to say might be treason, and might get me kicked out of the country. I am not overly interested in sailing. Yachting. Engineered sea-flying machines. Different strokes for different folks, right? But in the past two weeks it seems like a travesty to not be enthralled by the action from Bermuda. Watching the news, listening to the radio and water cooler chat, it seems like I'm the only one in this boat.
I'm very interested in the social issues that are generated by sport. And what intrigues me the most about the America's Cup is how utterly smitten the country has become with Emirates Team New Zealand. Alarms across the country are set for an early morning cuppa whilst watching or listening to the coverage. People who care not for sailing at any other time of the year are posting updates and changing profile pictures. Others who generally give all sports a wide berth are talking about exciting finishes and what a dick Jimmy Spithill is.
What is it about this boat, this crew, this competition, that captivates people otherwise disinterested in sport? Is it a touch of nostalgia thinking about red socks and an historic win for the little guy on a world stage? Is it the intrigue of how the hell we possibly managed to lose it last time, and the chance to get one back against Oracle? Is it because the America's Cup is such a majestic trophy, in comparison to what New Zealand sports teams often compete for? Or the completely incredible technology these boats employ, combined with the innovative cyclor concept, a major departure from what most people envision when they think of sailing?
The correlation between this and the coverage and comments being founded in patriotism over sporting thoughts can't be ignored.
Whatever it is, it's hooked the nation. Is the media's saturation coverage a classic chicken and egg conundrum – people care because it's appearing in three 6pm news segments? Or are there three segments because the country is so interested? We've come to accept the fact that during Rugby World Cups, we'll hear from the principal of the current captain's old primary school, and have a segment on mums and dads and WAGs of the side. While some of those are eyeroll-inducing, it's somewhat more understandable given rugby's place at the top of the country's sporting totem pole.
At work, I'm known for my keen sports interests. I had Cricket and Rugby World Cup wall charts in place and kept an Olympic medal tally on our staff whiteboard. So, my "Oh, yeah, I'm not really following it" responses have been met with surprised gasps, and looks which I interpret as people being concerned for my wellbeing. I wish I could respond with "Now you know how I feel when you don't care about the Black Caps, the Warriors, the Silver Ferns throughout the year." And that's just mainstream sports, which I don't see sailing as. Is this where I'm off track? Is there constantly this level of interest and support for sailing and it's just noticeable to me now that the stakes are so high?
My stance has nothing to do with the team itself. From what I've seen of Peter Burling, he seems like a calm and collected customer who is good at what he does. I've watched the past two Olympic Games and cheered as he and Blair Tuke won medals, in that time honoured way most Kiwis do – becoming interested and a sudden expert in a sport momentarily. And I have pondered if it's the Olympic spirit at work here – where Kiwis just want to see Kiwis doing well, no matter the sport. But the support and interest levels are spiking in people who usually don't care about the Olympics either. It has me utterly baffled.
All that said, I'm a patriotic New Zealander and you better believe it when I say I want Emirates Team New Zealand to win. I'm aware it's not a country-based competition, but the boat is named Aotearoa and has Kiwi boys on board. So just like any sport – cricket, tennis or underwater hockey – you're damn right I want to see the Kiwi flag on top – especially when there's an Aussie in charge of the opposition. And to those who have found themselves hooked by the competition and the drama of the sport, I say this – welcome. Dip your toe in a few of our country's other offerings. You may find yourself pleasantly – and permanently – captivated.
Follow Heather on Twitter