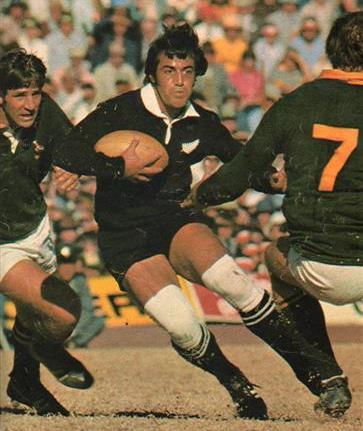 By The Spotter
Infinite full moons ago, there was the well-known Kentucky fried chicken advertisement with the super-sized kids in the back of the car  (Unintentionally ironic? Hard to entertain the notion it may have been subliminal) that went, 'Hugo said "You go" etc'. Around the same time there was another ad, also for Kentucky fried.
That particular one featured the All Black, Bryan 'Beegee' Williams introducing aforesaid company's Rugby activity book for children; to a group of kids gathered at his feet. As the ad came to a close he asked the group "So kids, who's your favourite All Black?" To which they shouted back "Sid Going!" Williams is then heard to utter a crestfallen "Oh…" Obviously that conclusion was all according to script and made to be amusing by the fact Going wasn't part of the All Blacks by then.
The point is, the chicken executives chose Williams as their main guy no doubt because he was already well on his way to becoming a Ponsonby, Auckland, and New Zealand Rugby legend. And let's certainly not forget- legend also of Samoa.
Bryan George 'Beegee' Williams was recently knighted for his long-time service to the game of rugby as a player, coach, administrator, famous All Black, and maybe best of all, great club man. He had already achieved an MBE previously. I'm not sure about being knighted for being involved in a sport, but if so be it, there would hardly be anybody more deserving you would think.
When Eden Park looked more like a massive duck pond on a horrendously wet day in 1975 when the ABs played Scotland, many still maintain that Beegee 'walked on water'. And if you look at the tries he scored that afternoon; actually, he pretty much did.
Andy Haden once told me that when Williams was seriously injured and sustained a fractured pelvis against France at Toulouse in 1977, the opposition thought so highly of him that one of their reserves, no less than the great Jean-Pierre Rives, came directly to the hospital still dressed in most of his playing gear, to make sure that the All Black winger would make it out of danger.
In case you are not familiar with his exploits or want to wallow in a bit of Beegee nostalgia, here are a couple of great videos, posted incidentally, by his daughter Gina-Rae. (Hoping she won't mind..)
talltree@xtra.co.nz  (Paul)