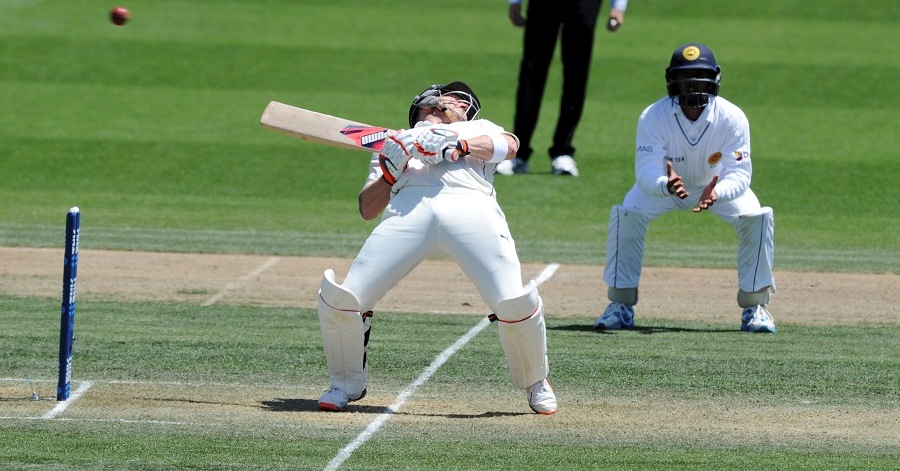 That was a weekend of cricket with a difference.  In a throwback to cricket from the 1930s and the West Indies Fire on Babylon eras, we had fast bowlers charing it in and pitching the ball on their side of the pitch.
The line was very leg-side, and the target was the throat.  The bowling from both sides was accurate and, most importantly, the Seddon Park pitch offered a lot of fast bounce.
This test will be remembered, however, for the fact that batsmen from both sides struggled to deal with it.  The two collapses over the last two days were similar in their dramatic nature and the fact they came about because the batsmen appeared ill-equipped to deal with what they were facing; both technically and mentally.
It started on the Saturday afternoon.  Chameera, and Sri Lanka has unearthed a goodie there, started a barrage of short pitched bowling that New Zealand struggled to form a plan for.  And the more batsmen played silly shots the faster Chameera bowled.  The ball that dismissed Taylor would have warmed Michel Holding's heart.
The grumbles started.  This is all T20s fault.  Overplayed players have no idea how to play short pitched bowling.  It may be true that a couple of months playing on flat Indian decks in a format where bouncers are nullified is not great preparation for what took place in Hamilton, but the insinuation was something different.
Then on the Sunday, Sri Lanka had even fewer clues with dealing with the short stuff.  The catching fieldsmen were those on the ropes.
Unfairly, particular derision was heaped on the Sri Lankan tail, but that was not totally appropriate.  Their tail was one of the weakest I modern test history including a player with a first class high score of 14 coming in at number 9.  Herath apart, they are also very inexperienced and had probably not faced conditions like that before.
The real reason for this poor handling of the short stuff was that modern players are not used to it.  Pitches have been flattened out, most noticeably in the West Indies and Perth, and legside chin music set to legside fields is just something batsmen are unaccustomed to.  That does not make them worse batsmen (or gutless as hinted at) than those of the eras mentioned above; they are just not used to it.
New Zealand won the test mainly due to Kane Williamson, who showed how you play short bowling; you pull the deliveries you can get over and you leave the rest.  But this throwback to cricket of years gone past was fascinating viewing.  And there are so many more relevant ways to bag the IPL than the batting from this weekend.