The mathematics of survival
0
When Adam Voges was finally given out 14 minutes before lunch today we finally got to know the equation for survival for New Zealand.  A first innings deficit of 379, and eight sessions (plus one over) to play.
This is based on the assumption that batting sides in test cricket in 2016 will score around 300 runs a day.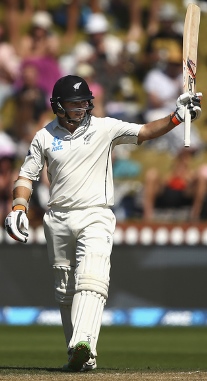 So were New Zealand to bat for two entire days you would expect them to be around 600 at lunch on the final day.  That would give them a lead of around 220 with two sessions (60 overs) to play.  With a batting lineup like Australia's you would think that would not be enough.
If you were to add another hour and 50 runs to the total that would be 270 in 45.  That is a run a ball chase which should be safe given more leniency in tests around things like short-pitched bowling.
So in simple terms they need to bat for 195 overs, and score 650 runs.
These are scary numbers, but the pitch offers nothing for the bowers and this New Zealand side has done it twice in succession here at the Basin.  By a way of comparison here are those fightbacks:
For the famous 302 India test of 2014, the score was 680/8 off 210 overs following a deficit of 246.
Last year the score was 524/5 off 172 overs after a comparatively tiny deficit of 135.
The Wild Card is Nathan Lyon should Australia still be bowling on Tuesday.
Statchat.
In the Australian innings four batsmen were dismissed caught and bowled.  Quips about whether we're playing caught and bowleds in this game then aside, this was a joint world record for a test innings.
The previous instance of this occurring was also in a Trans Tasman test, and the one that got away