By Aiden McLaughlin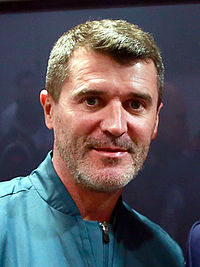 21st April 1999. Man Utd travelled to Turin to play Juventus in the second leg of the Champions League semi-final, after a 1-1 draw in the first leg at Old Trafford. Ryan Giggs had scored a vital equaliser in injury time to draw level after Antonio Conte had scored for the Old Lady in the 1st half.
Pippo Inzaghi scores two goals for Juve in the first 11 mins and that was that. 3-1 up on aggregate, away goal, Man Utd are done. Except they weren't. It turned into Roy Keane's finest hour.
Up he popped to score from a Beckham corner after 24 mins. 10 mins later he got booked; if they somehow made the final Keane would be suspended. Keane was up against Zinedine Zidane, Didier Deschamps and Edgar Davids in midfield, all great players and he dominated. United deservedly went through that night with Andy Cole and Dwight Yorke clinching a 3-2 victory. Sir Alex Ferguson went on to say, about Keane.
'It was the most emphatic display of selflessness I have seen on a football field. Pounding over every blade of grass, competing if he would rather die of exhaustion than lose, he inspired all around him. I felt such an honour to be associated with such a player.'
I wasn't a Man United fan, but I remember that game vividly. I also remember the rush, the excitement when the final whistle went. I started thinking 'I've got to go to Barcelona for the final, I've got to be there, that was amazing, the final will be incredible.' Why the hell would a Wimbledon fan want to do that (apart from the fact his own team will never be in that position)? Because that's what football does to you. It stirs the emotions like no other sport. The last 48 hours have brought those memories back for me and created new ones. Yes, the fans of the four teams involved went through far more than the rest of us, of course they did, but for the neutrals, it was incredible too. At the end of the Ajax v Spurs match I didn't think, 'I've got to go to Madrid for the final' but I sent a message to a mate within minutes and said 'Champions League breakfast at our place?' The response from this Blackburn fan, within seconds, was 'Yes please'.
That's football fans for you. We have our teams but it doesn't end there. We just love the game. And the bacon & eggs are on me.
Follow Aiden on Twitter