The timeline of a tail end collapse
0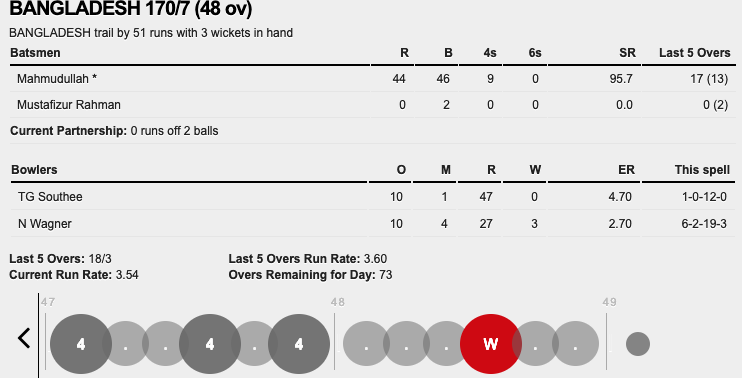 At the start of the day the game doing the rounds was predicting the finish time for the test.  It was an interesting diversion from understand wicket keeping substitution rules and regulations.
It was always felt that once Bangladesh were 6 down then it would end in a bit of a hurry.  So, in theory the game could be over within an hour or it could be a draw.
Soumya lasted for 45 minutes or so before edging one to Taylor in the slips.
12:03:  The fifth wicket has fallen.  Milthan with one of the slowest departures ever seen after scooping Wagner to the stand-in skip around the corner.
12:12:  Mahmudullah skies one off Wagner that somehow falls tantalisingly in between sub keeper Bocock and Raval at square leg.
12:13:  Next ball in fact. Liton Das chips one down Trent Boult's throat at fine leg.
The six wicket threshold had been reached.
12:20:  Mahmudullah helps himself to 12 off a Southee over.
12:22:  Taijul Islam Jumps when trying to defend Wagner and it loops to Latham at silly point.  Seven down
12:28:  Mustafizur Rahman backs away to a short ball from Southee and top edges it for six.
12:34:  Mahmudullah helps himself to 9 runs off a Wagner over to bring up his 50 and keeps the strike.  He kept the strike.  Well done if a little bit streaky.
12:42:  (There had been an injury break)  One run off a Southee over, and Mustafizur isn't allowed to take a single off the last ball.
12:46:  Mahmudullah takes a couple off a Wagner over, but loses the strike.  There are also some childish verbals at the end of it.
12:47:  Boult is back.  Mustafizur hits a wind assisted six over the keeper's head.
12:52:  He then has a wafting swipe at a full ball on middle stump and somehow gets a single.  Mahmudullah then takes a four to third man, and 200 is up.  He loses the strike again though.
12:56:  Mustafizur isn't good enough to edge a couple of short ones from Wagner before, scooping out a single from an attempted yorker.  They forgot about the strike bit; that was the last ball of the over.
12:58:  Mustafizur then tries to hit a full one from Boult through the Mt Victoria tunnel and is bowled.  16 off 22.  Eight down.
13:02: Abu Jayed tries to get out of the way of his first ball.  Bocock wants a test catch so he pleads for the review.  He gets it, but it's not out.
13:03: He survives the rest of the over, and New Zealand claims an extra 15 minutes on the back of some little known rule..
13:06: Mahmudullah picks off a boundary on the offside before doing a 360 degree spin and once again Boult is in business at fine leg off Wagner.  67 off 69 is an unorthodox stat when batting to save a test.  Nine wickets down.
13:06: Wagner takes a wicket with a full board!!  Ebadot Hossain out second ball, Wagner has five, and it's all over.