Those Cricket World Cup semi-finals: Part 2
0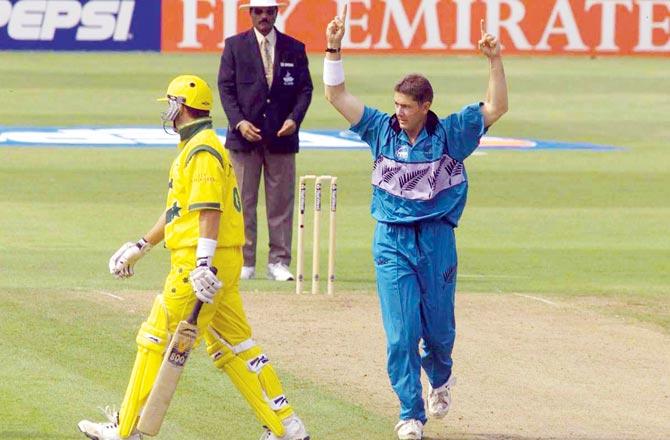 1999
Pakistan had already beaten New Zealand by 62 runs in pool play so came into this semi-final as favourites.
But not many would have predicted the comprehensive nature of the win.  In some ways it was a bit like the semi-final against the West Indies in 1975 in that a large part of the New Zealand innings was all about survival.  T
his was highlighted by the inning of Astle and McMillan; 6 runs off 37 balls between them.
And then there was this toe crusher from Shoaib Akhtar to Fleming.
Pakistan did the chase easily with Geoff Allott for once going wicketless.
They would then get torn one by Australia in the final.
2007
As in 1999 New Zealand faced an opponent in the Semi-final who they had lost to in Pool Play.
Or was it at the Super 8 stage?  That was the World Cup that refused to end.  Sri Lanka and eventual winners Australia were the only teams to beat New Zealand in that tournament.
On ANZAC Day New Zealand time the Sri Lanka win was set up by Jayawardene with a match-winning century, and New Zealand was never really in the chase in reply.  New batting coach Peter Fulton capped a pretty good tournament with 46, but he didn't get much support; McCullum's airy sweep at Murali off the first ball he faced summing the whole thing up.
It could have been worse though.  When the 9th wicket fell New Zealand was 140 runs short.  But some pluck from Franklin and Patel prolonged that misplaced feeling of hope.
2011
When Sri Lanka got a bit lucky.  In theory they should have been playing table-topping South Africa in this match; instead they got New Zealand who were the only non-Asian team in the final four.
And it was held in Colombo.  Herath opened the bowling for Sri Lanka and Nathan McCullum for New Zealand.
Batting was always tough with Styris the only player to pass 50.  And in losing their last 6 wickets for 25 they were all out inside 49 overs.
At 160/1 off 32 the hosts were cruising but a few quick wickets, mainly to the quicker bowlers, meant they finished the chase cautiously.  But the result wasn't in any real doubt.
It was late replacement Andy McKay's only game of that World Cup, and he acquitted himself pretty well in conditions that didn't really help taking 1-37 off one ball short of the full 10.
2015