Those RWC Cringe Promotions. 1999
0
The 2015 RWC Adidas promo clip is out. It is ghastly, trite and cringe-worthy.  It has also achieved a rare feat of making Jono & Ben funny again.
But it is in good company.  Ever since Kevin Roberts hijacked this stuff in the late 1990s it has been an expensive race to the bottom where Advertising Gurus have rolled out a four yearly cycle of saccharine advertising campaigns completely at odds with what they were promoting.
The pinnacle, if measured in volume alone was in 1999.  This was set to music; Fiona McDonald singing "Bless them all" including a whole range of ex-captains putting on All Blacks jerseys.  Never mind that the song sounded pretty Irish.
Not to be outdone, Neil Finn jumped in with Can You Hear Us.  This was not the official song of the 1999 Rugby World Cup as such, but it did feature All Blacks in the video so it was hardly unauthorised.
This was not to be the last time we would see Sean Fitzpatrick in a Rugby World Cup video.
Then, of course, there was the plane.  The plane with a stylised front row all over its nose.  An expensive make-over that lasted all of a month.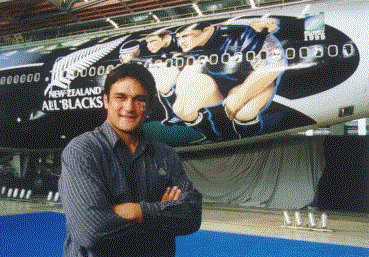 And it started with such fanfare too.  "Can you imagine the impact on the opposition and the English media when the All Blacks arrive in their own plane," says Air New Zealand's Mr McCrea. "We've created a real All Blacks's plane – not just another black plane. We think this sends out a clean, clear message about the spirit of our team and the spirit of our country."
Sometimes, things like that are better said after the event.