Trawling Trade Me for Cricket Collectables
0
By Jamie Bell
Following his historic debut 200, the museum at Lord's was proudly able to share that Devon Conway had donated the gloves he wore during the innings (well, one of the pairs of gloves he wore during the innings).
There are sporting museums scattered throughout the world which are eager to grab these mementoes of history, tokens by which they are able to bring history's stories to life – regardless of whether that history was made this month, a decade ago, or sometime beyond living memory.
Of course, museums aren't the only ones looking to hold on to these history-making items. Aside from the players themselves, who range from the supremely nostalgic to couldn't-care-less-it's-only-kit, fans are often the most competitive, and the most-likely to have to open their wallets, when it comes to nabbing a piece of sporting history.
In a previous life, I used to get asked to value memorabilia alot – one punter I spoke to on the phone, who didn't know my name, assured me his autographed bat had to be worth "a lot" because it was signed by the likes of "Daniel Vettori, Brendon McCullum, and Jamie Bell." I still don't think I've ever autographed a bat and I don't think combining Jamie How and Mat Bell into a single cricketer made that bat any more valuable.
In truth, when you're listing your old cricket on Trade Me, it only has as much value as you, or a buyer, is willing to put against it.
In the spirit of Conways' glove donation, and with the World Test Championship Final an example of a pinnacle collecting opportunity, I took a deep dive into the Sporting Memorabilia section of Trade Me and the value owners are putting against their treasures-they-don't-treasure-so-much-as-valuing-it-over-twenty-bucks-and-postage.
First off, there are 171 cricket results in the Sporting Memorabilia section. I'm going for a Lowest Price filter to see what bargains sit at the bottom end.
Skipping past the signed Northern Knights cap at a $1 reserve ("Not sure who autographed it"), there's already a surprise here. Stuffed into a frame in the style of repacking your sleeping bag is a limited edition, 35 of 100, polo shirt from New Zealand Cricket's Centenary Season. It's already met it's $1 reserve but there are 20 watchers on this one, so it may yet go for $3.51. The surprise here is that the owner placed such a low value on it. Make no mistake, the frame is the most valuable element of this, but it's rare for a sporting memorabilia seller to realise this when listing their item.
There are a handful of fairly ordinary things at the low end of the pricing; a handful of books, some cigarette cards, a signed photo of Brendon McCullum. There's also another Northern Districts' item. This time it's a long sleeved shirt. This is a sleeper hit … the U-Bix branding and Sky TV logos a giveaway this is actually one of the very first Cricket Max shirts. 
Don't all rush to buy it at once, now.
As I move up towards double figures a Central Districts Player Umpire badge sits alongside an array of programmes and books listed by their seller as "Awesome Old" things. They're photographed on little easels sitting atop what appear to be wool sacks. 
It's the little touches that get the sale, you know?
Beyond $10 we start to hit the clothing zone: polos and fan gear, mostly. The odd miniature bat also appears. There's more umpire paraphernalia (surely there's no market for this?!) and I start to feel like I'm doomscrolling past books, cards, photos, shirts, none of it notable – even if the seller of one autographed photo has gone early on "NZ legend" Tom Latham. The label is made worse by his photo priced above the signed Walter Hadlee and Martin Crowe player cards I've already scrolled by.
The 2015 Cricket World Cup had the ugliest volunteer clothing of any sporting tournament in the world, but that hasn't stopped someone offering up two shirts for $40. 
Next up is a miniature bat with six signatures. The first one is Peter McGlashan, a regular on Twitter. My immediate thought is on the economic viability of buying a new bat and getting a scrawl from the innovative former wicketkeeper.
At $45 there's a little gem, a photo of the 1907-08 Marlborough High School First Eleven. I can't immediately see anyone who went on to greatness after their 7 win, 3 loss season but I do note there are three white boys named White in their whites.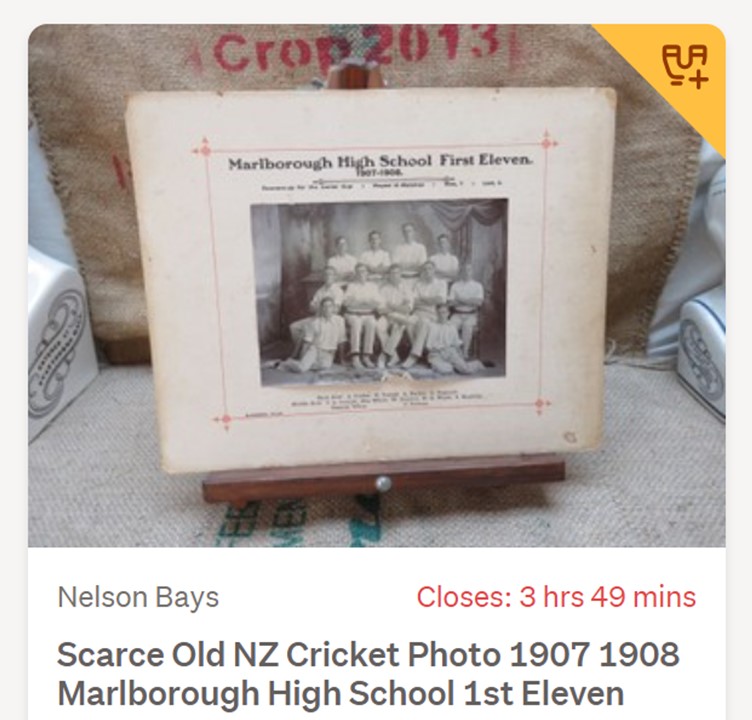 As we climb past $50 there's a framed bat and photographs charting the careers of "The Pace Setters", Sir Richard Hadlee and Fred Trueman. It's signed by both men and is a nice item, pairing the first man to 300 Test wickets with the first to 400. The seller is likely to see this one rise in price, in spite of failing to do any research and elevating Trueman to the status of an "NZ great".
Having raised the bat at $50, it's fitting this is the domain of signed bats. There is also a keen seller in the Bay of Plenty hawking off a lot of old kit. There's what appears to be an old Kookaburra Sapphire, a classic bat but not so classic it should sell for it's $65 buy now. There's worse to come: with a buy now of $70 is a ProTech bat. That's an old Warehouse brand that was probably no more than $30 brand new. 
The real gem here is another $5 up the value chain, still with our BOP friend, this one's a Vaughan Sports bat which comes complete with hand-drawn double scoops on the back. My suspicion is this is another bat which cost a lot less brand new, but those sketched scoops have raised my heart rate a little.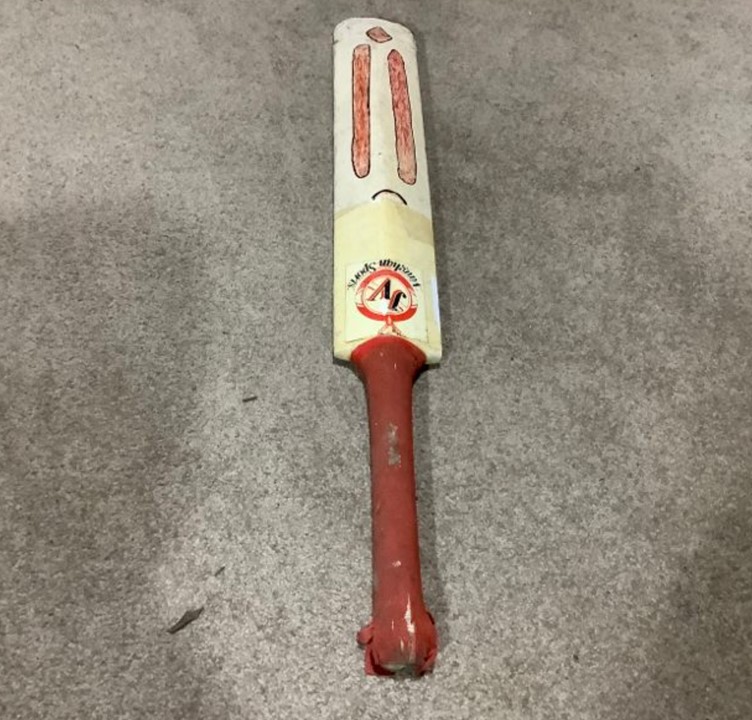 Inexplicably there's another Northern Districts' shirt – with a buy now of $80, you could save a dollar a week and still be able to buy this before ND announce their full squad for the upcoming summer.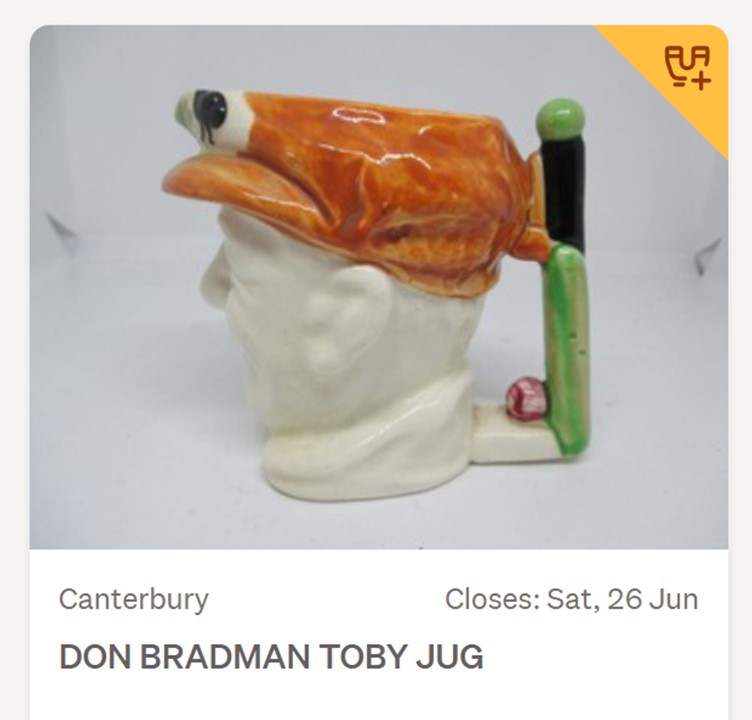 Thankfully, that's the end of provincial shirts as we hit the region of Sir Donald Bradman memorabilia. There's a Bradman Toby jug starting at $100. I'm no memorabilia valuer, but I reckon that's a nice price for this item (one sold three years ago for just shy of AU$500…). Right up the top end, there's a bat which has The Don's career record engraved alongside a signed mounted card. There's a lot of Bradman memorabilia around – he signed blank bats which has ensured new Bradman marked items continue to emerge … and that's without mentioning former-England international, Dermot Reeve's sideline business. This is a nice piece though, somewhat curiously priced at $718.75.
There's an array of New Zealand team-signed bats, priced all over the place, right up to $5000 for a bat featuring signatures collected over India's three New Zealand tours in 1968, 1981, and 1990. Historically, it might be the most interesting item found on this search. 
If you've got $5k to spare for purchasing cricket memorabilia, though, I'd recommend going for the full deck of Northern Districts gear to start kitting out your Last Man Stands' side.
Follow Jamie on Twitter