By Scott MacLean
Tomorrow (NZ time) sees the start of the 110th Fall Classic, Major League Baseball's World Series between the National League champion San Francisco Giants and the American League champion Kansas City Royals, who will battle it out in a best-of-seven series for the title.
Both clubs made it to the postseason as wildcards, making this only the second time that two wildcard sides have met in the World Series and the first since the second wildcard was added in 2012. The Giants went 88-74 in the regular season, finishing 5 games behind the rival Los Angeles Dodgers in the NL West division, before thumping Pittsburgh 8-0 in the wildcard game and then beating Washington 3 games to 1 and St Louis 4 games to 1 in the Division and League series. The Royals went 89-73 to finish one game behind the Detroit Tigers (going 41-23 over their last 64 games) in the AL Central, before coming back from 4 runs down in the 8th inning to beat Oakland in extra innings in their wildcard eliminator, then swept both Anaheim (3-0) and Baltimore (4-0) in the subsequent series to set a new record for consecutive wins to start a postseason.
The World Series is nothing new to the Giants, having won the 2010 & 2012 titles over Texas and Detroit respectively, and their roster has 16 players who have appeared on this stage.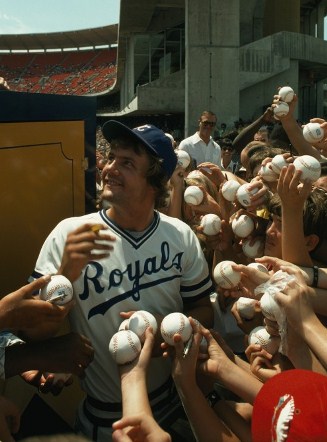 The heart of their lineup features three terrific fastball hitters in catcher Buster Posey, a former NL Most Valuable Player the year after suffering a horrific leg break in a home plate collision, outfielder Hunter Pence and third baseman Pablo Sandoval, nicknamed 'Kung Fu Panda' largely on having a physical build similar to the DreamWorks character and who belted three home runs in Game 1 of the 2012 World Series.
On the pitching side they've overcome the midseason loss of workhorse Matt Cain to injury and the ongoing loss of form of Tim Lincecum (a former two-time Cy Young winner as the leagues' best pitcher) who has been demoted to the bullpen. Lefty Madison Bumgarner has emerged as the staff ace and will start Game 1, with veterans Jake Peavy, Tim Hudson and Ryan Vogelsong slated to follow him in the rotation.
San Francisco's pedigree is in contrast to Kansas City, whose postseason appearance ended a 29-year drought – the longest in the four major North American professional sports – marked by ongoing futility since they claimed their only World Series title in 1985 over St Louis. That particular team was led by Royals icon and Baseball Hall of Famer George Brett, famous for this eruption in what became known as the Pine Tar Game in 1983, and for being the guy in the National Geographic photo that inspired a young Aucklander named Ella Yelich-O'Connor (aka Lorde) to write a song. Only two of their players, Game 1 starter James Shields and second baseman Omar Infante have even appeared in a World Series, and both were on the losing side.
Their squad is mostly unheralded and homegrown, or acquired in trades using the stocks of their farm system rather than chasing high-priced free agents. Indeed of the 10 players who will start Game 1 of the Series only one (Infante) was signed as a free agent. Four – designated hitter Billy Butler, outfielder Alex Gordon, third baseman Mike Moustakas and first baseman Eric Hosmer – were first-round draft picks and all have endured periods of struggle since. The Royals aren't exactly an offensive juggernaut, hitting the fewest home runs (95) in the majors this season, but have gotten it done with pitching, timely hitting and great defence, led by Lorenzo Cain in centrefield, Gordon in left and Moustakas at third. Shields will be followed by young flamethrower Yordano Ventura and veterans James Guthrie and lefty Jason Vargas in the rotation.
Both sides have assembled formidable bullpens, each conceding barely more than a run per nine innings pitched this postseason. That will to put pressure on the offenses to score early, as the spectre looms large that the side leading late in the games will simply be able to shut it down. In particular Royals duo Kelvin Herrera and Wade Davis have pitched more than 160 innings between them this year, and neither has given up a home run.
Lastly, there are the two men in the hottest seats of all, the two managers – both of who are former big-league catchers themselves. Giants manager Bruce Bochy is in his 20th season as a big-league manager (first 12 with San Diego) and fourth World Series, winning two with the Giants and losing in 1998; and is widely respected for making the right moves in-game, including replacing his closer for a better matchup as he did in the League series. His Royals counterpart Ned Yost is in his first postseason in his 11th year as a manager, but was on several of Atlanta's coaching staff's before that under Bobby Cox. His in-game moves have often been questioned by media and fans alike, some of that criticism stemming from overseeing a pair of collapses when managing Milwaukee, who he led for most of six seasons, that saw him fired from that post.
My prediction: Runs will be difficult to come by, and while the heart wants to see a Kansas City title the head says San Francisco's experience gets it done in 6 games.
And speaking of Lorde, most San Francisco radio stations have taken Royals out of airplay for the duration of the World Series, and if KC wins it might be a while before it's heard again by the Bay.
Follow Scott on Twitter