80 words in 80 minutes. NRL round 11
0
By Stephen Gallagher
Thursday, May 24
Broncos v Eels, Suncorp Stadium, 21.50NZT
The Broncos reaped the rewards of an 80 minute performance last week, running down the Roosters. The Eels solidified their position of last.
Brisbane will be dangerous here. They're full of confidence, and their squad is full of talent.
The Eels have shifted a few players around, and it looks like Coach Arthur is under some pressure for his blokes to perform. Not a good sign.
Broncos to do it in a canter.
TIP: Broncos 13+
Friday, May 25

Raiders v Sea Eagles, GIO Stadium, 20.00NZT
The Raiders will be feeling a bit of heat from the Sea Eagles after their turn of form last over the last two weeks.
Canberra have to reshuffle slightly due to Tapine's suspension, but shouldn't affect them too much.
The lack of control Canberra are having on a game is taking its toll. The Sea Eagles have been impressive, but with injuries and suspension means they are under pressure.
Really tight game here. Can't see an obvious choice.
TIP: Sea Eagles 1-12
Cowboys v Storm, 1300SMILES Stadium, 21.50NZT
Cowboys bombed last week, and I've struck their name out, they're no chance to make the eight.
Doesn't help they come up against the Storm who will probably go out there and teach them a footballing lesson.
North Queensland need to turn things around. Their confidence is shot, and they're playing as individuals rather than a team.
Storm will bounce back and carve up.
TIP: Storm 13+
Saturday, May 26
Roosters v Titans, Central Coast Stadium, 17.00NZT
Taking this to the Central Coast, the Roosters want to make amends for coughing up a lead last week.
The Titans should be deservedly full of confidence after last weeks win.
It will be a hard ask to come up against the Roosters, but the Gold Coast side will know they've been very inconsistent, and they could spring a win on them.
The Roosters really need to show they can play. We're all waiting for a stand up and deliver performance.
Should be a game packed with points.
TIP: Roosters 13+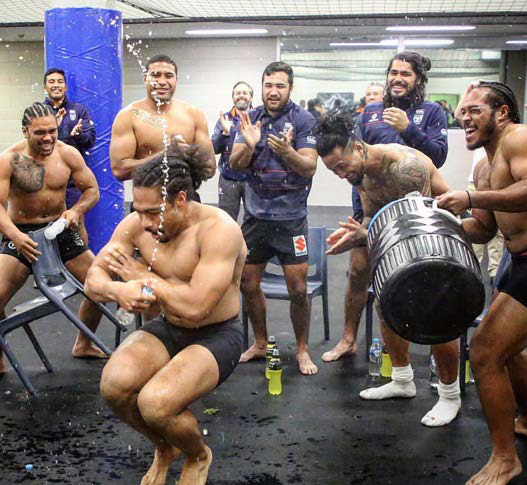 Warriors v Rabbitohs, Mt Smart Stadium, 19.30NZT
With the form the Rabbitohs are in, I'd watch out. They're kicking ass and taking names.
The Warriors would love to cement a top three spot with a win going in to the bye, but it will be a grind.
Potentially the game of the round, Souths look to win four in a row, while the Warriors want to make up for their last home showing.
I think the battle of the hookers will be brilliant. Luke and Cook have been two of the best this season.
TIP: Warriors 1-12
Panthers v Dragons, Panthers Stadium, 21.30NZT
Here's a good game too. The top two teams going up against each other.
Both sides are unchanged, but that's hardly surprising.
What will be interesting to watch is how each side will cope on defence. Both strong defenders of their line, but both also repping a strong attacking arsenal.
The Dragons will take every opportunity to take points, so Penrith's discipline will have to be on point.
Really tight match up. Love it.
TIP: Panthers 1-12
Sunday, May 27

Knights v Sharks, McDonald Jones Stadium, 16.00NZT
The Sharks have won five on the trot, and good on them! They play a spirited Knights side who have dropped off the pace over the last fortnight.
What will help the Knights will be a strong Sunday showing at home. They have to win these games if they want any hope of making the eight.
Cronulla will be well aware of the threat, and have the experience and the talent to play for the entire 80 minutes.
Knights need a strong start. That's where they are good. A strong start gives them belief that anything is possible.
TIP: Sharks 1-12
Wests Tigers v Bulldogs, ANZ Stadium, 18.10NZT
While Wests have fallen away from top four chat, the Bulldogs remain slow and boring.
The Tigers shouldn't have too many problems accounting for Canterbury-Bankstown.
Josh Reynolds also finds a spot on the bench to go up against his old side, which means he'll be super charged and ready to go.
Frawley and Foran haven't gelled, and they're starting to show cracks. If they fail here, it could be all over for the Doggies.
TIP: Tigers 13+
Follow Stephen Gallagher on Twitter