A weird and wonderful season
0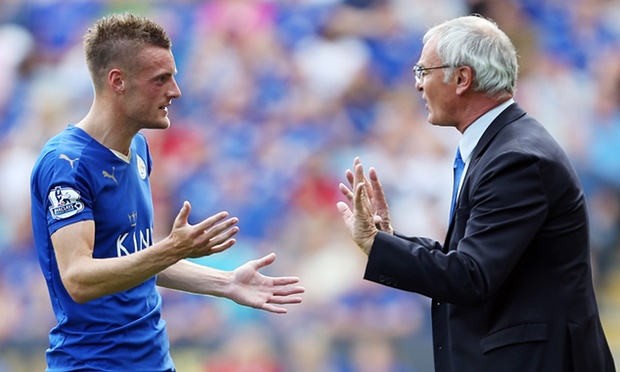 By Martin Hearnden
While the Premier League enjoys a brief hiatus for the benefit of sundry cup competitions, it is probably a good time to try and make sense of what has become a fascinating if not downright bizarre season, particularly at the top. With 26 games played and only 12 remaining, the charge for the finishing line is gathering momentum.
After 26 games last season, Leicester City was stone cold motherless last with 18 points, 8 points adrift of Hull who ultimately went down. There is no sane explanation of what has happened since.  Most fans have spent the last several weeks waiting for the inevitable implosion, it has not happened. Will the last minute loss to Arsenal signal the beginning of the end?  Probably not.  It will in all likelihood sparks a reaction that will see hapless Norwich destroyed on 27th February, when hostilities recommence.
So what is the secret?  They certainly play a fast & direct counter attacking style with a high press.  Like most sides they are a rather eclectic bunch but they certainly gel, which is probably down to their rather underrated Manager. Ranieri was often unfairly depicted as a cartoon character at Chelsea; he has a solid CV and clearly is pushing the right buttons at the Foxes.  Commenting on individual players is a bit pointless as this has truly been a team effort. Vardy and Mahrez are gleaning the headlines but the efforts of Kante, Huth, Morgan and Schmeichel have been outstanding.  They remain the neutrals (and romantics) favourites to go on and crown a remarkable season with the title.
Since the inception of the Premier League it has been dominated by Manchester United and to a lesser extent Chelsea. Neither side features this season and nor do Liverpool or, so far, a disappointing Manchester City side. This has had the effect of opening up the competition and providing a yawning gap into which you would expect Arsenal to stride confidently into. Not so, at least not yet and so Leicester and Spurs (yes Spurs!) have invited themselves to the party.  So, with 12 to play it is hard to look beyond the 3 teams occupying the top 3 slots and with all 3 offering up reasons to be fallible, strap yourselves in for what will hopefully be a big finish.  Arsenal remains the bookies choice…
Of course the other "race" at the foot of the table will also heat up as Championship football looms for the 3 worst losers, just as the rewards in the top flight become even greater.  The point has been made before that you could drop 5/6 sides out of the league and they would not be missed. Unfortunately they will not be replaced by anything superior from below.  You could actually reduce the size of the league (say 18 teams) but that is another story and unlikely to find any favour with those that count. Villa is simply awful and certainly will not be missed. How are the mighty fallen.  Not that they have been mighty for many years but still a famous old club with a big fan base. Prince William will not be amused, nor David Cameron for that matter.
WBA are 14th with 32 points and thus just about safe. Pulis will successfully park the bus on enough occasions to scrounge together another 6 or 7 points and safety.  Only 5 points separate AFC Bournemouth in 15th and Sunderland in 19th, leaving 5 clubs desperately trying to avoid the 2 remaining relegation spots.  It could well be a very unhappy couple of months in the North East, despite Big Sam's best efforts.  The neutrals will probably favour Bournemouth, Swansea and Norwich in any event.
Mid table mediocrity? Watford probably leads the charge, in a good way, Stoke, Everton and Palace all with "honourable mentions".  The Saints and Hammers are having decent seasons. Southampton seems to survive the constant pillaging of their best players without breaking stride and West Ham is unrecognizable under Bilic.  Dmitri Payet is arguably the find of the season, at the ripe old age of 28. Both clubs would fancy a 5th place finish.
Fans of Chelsea, Manchester United and Liverpool bemoan poor seasons. There maybe some solace in various cup competitions but in the league, despite their considerable resources, they are very average.  Chelsea is manger less and United surely only one more poor performance away from being the same.  Herr Klopp has his challenges at Anfield.  All 3 will be looking up and scratching their heads, their fans demand a whole lot better.
This article has ended up being about the managers as much as anything else. So a big shout out to them and their totally thankless task.  The job being done at Leicester, Spurs, Saints and even West Ham is extraordinary really and how about Pellegrini at Manchester City? Effectively sacked and he still conducts himself with class and grace.
After a thoroughly ordinary season in 2014/15, this offering is a huge upgrade. If not in technical ability then certainly in entertainment and the downright bizarre.  The world watches the EPL and on this season's evidence it is not hard to see why.
So, Champions Arsenal from Leicester and Spurs.  Down the North East contingent with Villa. Up Hull, Brighton and Boro.
Follow Martin on Twitter