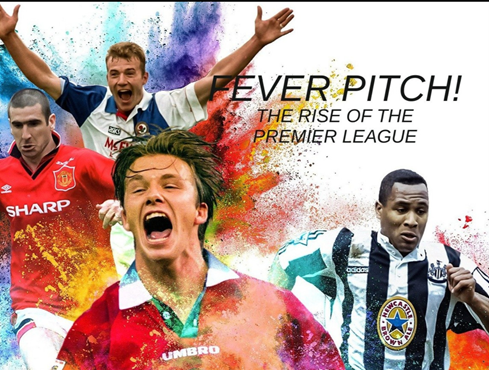 By Hamish Girvan
When football was invented (in 1992)
English football never really started in 1992 however for a generation of current football fans it did. Fever Pitch is a new series on Amazon Prime that documents the start of the English Premier League through its formative years, which then turned into the world's most popular and lucrative football league.
It was all seeded after the 1990 Football World Cup, which rejuvenated English fans love of the game (who cannot forget Gazza's semi final tears ?)  a new TV service – Sky Television decided they needed something to drive the uptake of a subscription service. Rupert Murdoch's company decided to take a punt and buy the rights to a new breakaway football league (basically an expanded first division of 22 teams) and televise it exclusively on satellite TV.
Some of the initial marketing and game day events were viewed as pretty amateurish and tacky in trying to be an all American football type event however on the pitch the football seemed to go to another level. Who knows it may have happened anyway with the status quo however the money Sky TV threw at it meant that they were now behind a  new beautiful game. 28 years later it's easy to forget the change to how football was first viewed then by both fans and the sporting public.
The first episode chronicles that first season (and not really a spoiler) and how Manchester United won a league title for the first time since 1967. There are some parallels with the Manchester United of today – lots of stars, an under fire manager and a poor start to the season however somehow they kicked up a gear and won the title with game to spare.
The whole series has some fantastic footage of games, interviews and behind the scenes dealings. There are also parallels today with a lot of push back from fans having to pay for a satellite box and dish  to watch their team. Think of subscription based streaming services today and how that's the only way to watch some live sporting codes. In 1992 it was a whole new ball game.
Most fans of a certain era will also remember the infamous kung fu kick Eric Cantona delivered to a fan in the Manchester United game vs Crystal Palace after his red card. The aftermath and subsequent court case is well documented with a lot of facts coming out that are a distant memory. Cantona today is interviewed superbly and he is still as unique as he was on and off the field back then. He still shows no real remorse for his actions and its easy to forget he was some player on the pitch skill wise.
Each of the four episodes in the series focus on a season in those early years of the EPL. The rise and fall of Blackburn Rovers, the introduction of Arsene Wenger as a manager who changed the way players were trained, managed and played and of course a lot of focus on Sir Alex Ferguson with his influence on and off the field.
The game nor the hype has not changed too much from what we see today however the teams that dominate today are hardly mentioned. Liverpool, Manchester City and Chelsea are barely mentioned in terms of title runs as  they were irrelevant then. It's also hard to believe the teams that were in the upper echelons of the early days of the EPL table and to where they have digressed to today. Money does talk.
Perhaps one of the more powerful sections of the series is English player Les Ferdinand, a star player in the mid 90's for both QPR and Newcastle talking about the racism then and now. It's fair to say that sadly nothing has changed, and filmed in 2021 after the Euro 2020 tournament, him saying it's an issue we are still talking about it says a lot.  A poignant and accurate view of the anti racism gestures and campaigns seen today are completely dismissed by him as corporate PR.
Footballers went from – and no disrespect – from talented journeymen in the late 80's to global spurs stars overnight solely based on the exposure and the marketing that Sky Television did to football. (Vinnie Jones anyone ?) It changed the way fans watched and saw their teams players who started appearing on front pages from the normal back pages.
A highly recommended series and very well put together. Well worth a watch for any EPL football fan and those with  sports media interests.
Fever Pitch is streaming on Amazon Prime now.
Follow Hamish on Twitter