Allies
2
in Rugby
— 7 May, 2021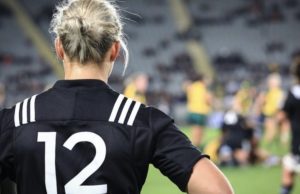 By Harbour Heather
On Friday afternoon, over 400 people gathered at Eden Park for the Women in Sport Aotearoa Captains Lunch. The same venue where, a week earlier, women's rugby history had been made. A ground which, over the next couple of years, will host three women's World Cups – a golden era for sport in this country.
The vibe at the luncheon was great. Politicians, athletes past and present, sportsbiz leaders and foot soldiers, media and local iwi were witness to the growth in momentum and commitment to women's sport. The upcoming women's world cups were hyped, as was the IWG World Conference on Women & Sport.
There was enthusiastic applause, ardent nodding. People in the room felt inspired, fired up and full of hope. That this is the best time in history to be a woman in sport, in this country especially.
Over at Table 26, burning in the back of my mind was a Facebook post I commented on early Friday morning, (against my personal standard of jumping into the cesspool). The post linked to the audio of an interview D'Arcy Waldegrave conducted with Chelsea Alley, following her social media post outlining the realities behind the history last week.
The dudebros of Facebook will take it from here (I've left the grammatical errors in so readers get the full experience).
Hayden
Why is it its only the womens teams that come out say, being sports player is so hard, the coach was to hard, training is to hard. That Wellington player, who has the podcast Alice Soper even come out and said "Women's rugby should be fully professional at the top level, but if they can't make training, or are late, that should be alright because women have alot more on and are busier than men"! Women want equality, but you really don't!
Dale
Didums. Talk to any guy in the amateur days. What a sook
Tevita
What a sook !! The professional men laid the foundation for you to have a shot. You get paid for playing ajd all money comes from the men's professional game because no one watches the women's game , it's not even as competitive and boys under 14s. 
Hamish
Just give up the sport and get a 9 to 5er  sports not a life necessity
Lars
I'm sure the men's netballers have similar issues except they can actually beat their full time professional female counterparts
Chris
But I though the womans game was going off. Brought in heaps of money.
There's now also this:
Heather
Wow, what a surprise… whole lot of dudebros here belittling her lived experience.
At the luncheon, as I listened to the excitement and progress and growth around women's sport, these men and their attitudes were festering in my mind.
It's true that there's a massive peak in women's sport at the moment. But it's also true that there remains a brick wall of ignorance to run through.
We need you, Guys-who-aren't-these-guys.
If you count yourself as a male ally, as the men attending the Captains Lunch were called, you may feel unsure as to what you can do to show your support. You can't change the world from an armchair, but you can help us chip away at the dicks bricks in the wall.
Engage small tactics, the very same you employ for men's sport without even thinking about it. Watch the games. Talk about it on social media (and don't be afraid to critique performances if it's valid – the women can handle it). Bring it up on a Monday morning while discussing the weekend's sport results. Comment on things like D'Arcy's post, and cut the dudebros off at the knees. Let them know the facts and the reality, and that their thoughts are prehistoric.
The theme of the IWG World Conference on Women & Sport is that Change Inspires Change. These men who think so little of female athletes and their performances aren't going to change their opinions easily, and they're certainly not going to be swayed by the thoughts of a woman on the internet.
So jump in, allies. Arm yourself with knowledge, and let's surge forward together.