And from the glass half-empty department…
1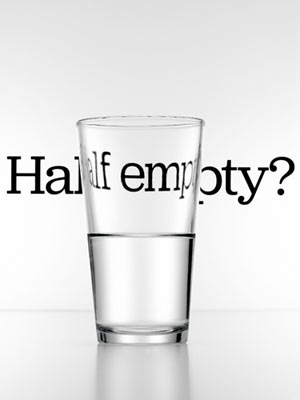 Half Full or Half Empty ?
Look, we here at Sportsfreak love the All Blacks and Saturday night's game was clearly one of the best displays from this team in recent times. Like all good All Black sides after a loss or poor performance (think of the third test in 1993 versus the British Isles or Bledisloe #2 in 2008 after they were thumped 34-19 in Sydney in Robbie Deans' first test as Wallaby Coach), they turned and looked inward and came up with a display that left no doubt about who the best team in the world currently is.
However, in the best interests of a contrarian approach there are still a number of issues that continue to surround this side that remove it from 'best ever' discussions (you can still leave that to the 1966-69 or 1987-89 All Black sides at this stage).
Let's take a minute and list them out:
World Rugby has never been weaker.
From yesterday's dross from South America where the Springboks struggled to overcome Los Pumas, the English in June, the current run-down state of Pacific Island and Pacific Rim Rugby plus last season's poor Six Nations tournament, there is no doubt that this current All Black side is operating in an era when world rugby has clearly never been weaker.
And on that note…
This is not a very good Wallaby side. Only 2 Wallabies would go near to a combined ANZAC team at present (Michael Hooper and Israel Folau).
Discipline
Four (yes four) Yellow Cards in two test matches is a huge concern 12 months out from a RWC where the refereeing 'style' is governed by the IRB (not SANZAR). The All Blacks gave away their first penalty after 14 seconds on Saturday night gifting the Wallabies a 3 point lead early. This trend needs to be nipped in the bud.
Depth (or lack thereof)
Hooker, Lock, Halfback and (to a lesser degree) Midfield backup continue to be a major issue. There is simply no adequate replacements available should any one of Brodie Retallick, Samuel Whitelock or Aaron Smith suffer injury at present. With the team so far ahead of the chasing pack, Hansen would be well advised to embark on a similar program that has seen Dane Coles flourish by partnering new test players alongside established stars. We all know Aaron Smith is world class, what we don't know is can a TJ Perenara or a Jeremy Thrush step up in RWC Semi-Final should they be required? Now is the perfect time to test those theories.
What's going on with the bench?
Last night we were greeted with the sight of TJ Perenara earning another test cap for six hard earned minutes playing on the right wing, in addition to players like Sam Cane and Steven Luatua (both with little or no recent rugby) cooling their jets on the plastic chairs until there was 15 minutes remaining. Rugby is a 23 man game these days but the guys with the mics up in the coach's box seem to take a reactive rather than proactive approach to substitutions. Our dislike of the Marty Berry '5 minute test cap' has already been well documented.
The Rugby Championship isn't knockout rugby
'Bonus Point Try to All Blacks' exhaulted Nisbo last night. Newsflash – they don't have bonus points at the Rugby World Cup. The 4N is a fun tournament and big money spinner but the Rugby and refereeing often is poor preparation for the knockout tournament that is the RWC. 2011 showed us that you don't get 8-7 games in the 4N but you do at the RWC.