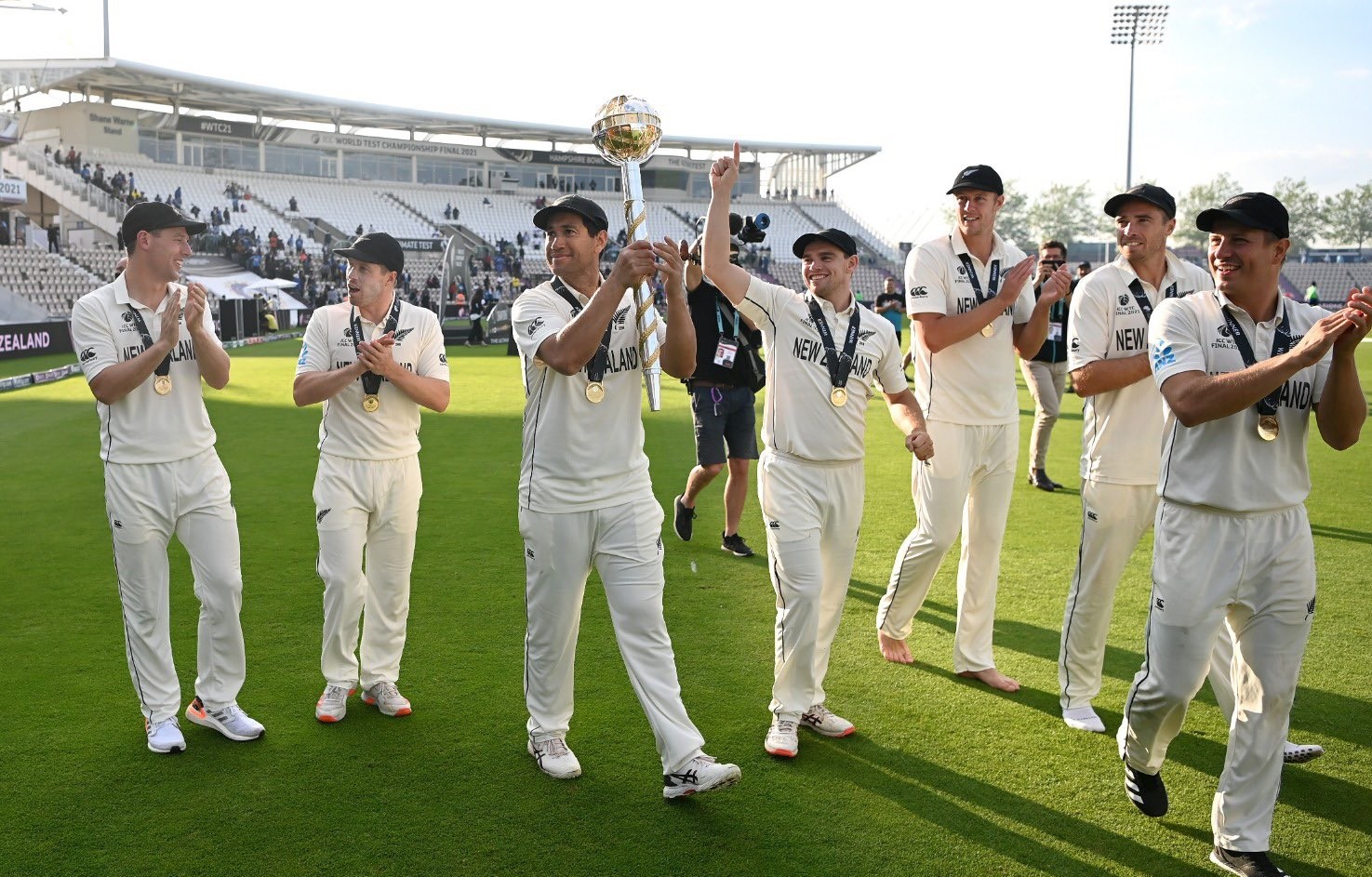 By Harbour Heather
So this is what exorcising demons feels like.
Try as they might, the seemingly BCCI-funded commentary team's regular mentions of 2019 only further fuelled the feelings of relief, of achievement and atonement.
Atoning for 2019, sure. There's no doubt that the World Test Championship tasted sweeter because of the bitter heartbreak of the World Cup Final's inconceivable conclusion. To secure a world title after not even losing in our last attempt, and the emotional scarring that followed, it was hard not to feel like we deserved it. That fate had balanced out the cricket gods' previous wrong-doings.
It was just so nice to sit with a comfortable win. But the ride wasn't smooth.
We were atoning for past series where being a BlackCaps fan resulted in people questioning your sanity. Before this match began, I wrote of the wave of hope for Kiwi cricket fans, and how we still weren't fully comfortable trusting that we'd see the desired result. It was mostly historical baggage from the 2000s, but the scarring of what happened at Lord's was not insignificant.
In the darkness of the overnight hours on that sixth day, NZ Cricket Twitter was rampant with full-blown sporting anxiety. People who had witnessed innings defeats from the dustbowls of the sub-continent, been there for the revolving door of openers and seemingly endless search for a spinner. The wave of hope might've been forming, but the devil was there, perched on the shoulder, seductively whispering past failures into our ears. These are the people who weren't quite willing to say that New Zealand was on top until Kane Williamson raised the mace over his head.
The unabashed joy as dawn's light spread through lounge rooms was matched in the Southampton change room. When Ross Taylor (fittingly) whipped the winning runs (fittingly) through the leg side, the team's metaphorical jaw unclenched. The weight came off the shoulders. And for those who were at Lord's, a new core memory of a championship final was created. Because as much as we are die-hard fans, these men were once just fans too, before they became elite players. They've been on the treacherous journey, sometimes in the trenches of our toughest results.  Watching as the mace was passed from Williamson to Watling, from Tim to Trent, brought an acknowledgement of how long each of them had been waiting for a moment like that.
Just like 2019, the team is being praised for being champion blokes. This time, they're also champion cricketers. There's an added satisfaction that the world's cricketing media still laud our players as the nice guys. It's not lost that many would've been on our side purely because of our opponent. David and Goliath in every facet.
It's not unreasonable to say we weren't just up against India in this final. We were up against the ICC, who wouldn't have wanted an upstart from the bottom of the world to waltz away with the crown and its sceptre. Our timezone is unappealing, our population and market potential isn't big enough. One of the social media criticisms of our presence in the final was that we hadn't played bi-lateral five-match series against the "Big Three".
Dealer's choice, my friends. We played the hand we were dealt. For years, we've been down here jumping and shouting with our hands raised, willing for more tests – for three- or five-match series. Perhaps now, alongside the niceties, we'll get the scheduling respect we deserve.
Test cricket, there's nothing like it. You can watch someone score 300 and have it be a great day in our sporting history, and then you can watch an entire test where neither team scores over 300 in any innings, and have it be the greatest day.
Following the 2019 World Cup Final, I signed off with some Taylor Swift lyrics centred on unwavering support and pride for the team. This time, I'll leave you with words from Freddie – cliché, but relevant nonetheless:
I've paid my dues, time after time, I've done my sentence….
I've had my share of sand kicked in my face, but I've come through…
We are the champions of the world.
Follow Heather on Twitter