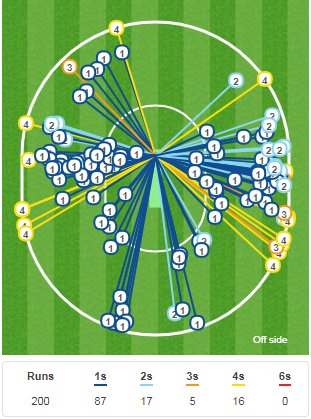 The two themes of the day were trying to work out how long to bat for set to the backdrop of a changing forecast for Wednesday, and marvelling at one of the best innings ever seen at the Basin.
Tom Latham's  was a knock of real class; a mixture of technique and extraordinary powers of concentration.  And it was perfectly paced for the situation.
He was slow to start yesterday and only really got going once Williamson came in and got the scoreboard going.  Today he continued to accelerate steadily in a risk-averse kind of way.
#Statchat
The stats say it all.  694 minutes, 489 balls.  The sixth highest score by a New Zealander; the highest score by an opener at the Basin (all countries).
He became just the second New Zealander to carry his bat in a test innings.  Glenn Turner had previously managed that feat twice, and he was pretty handy.
It was the highest score by anyone carrying his bat in a test.  Previous holder being Alistair Cook.
And it's not over yet.  Stay tuned for that list of players who have been on the field for every ball of a test.  It is not a long one.
In the background there was the debate about when to declare.  How important is to bat once?  How will Sri Lanka bat, and how long should they bat for tonight?  And what does the forecast mean when it says it will rain "Sometime in the afternoon" on Wednesday?
The approach was revealed once New Zealand lost some tail-end wickets in a hurry.  The rate dropped to 1 run an over as Latham and Patel took the lead to over 250
For the visitors the highlight was Chandradasa Brahammana Ralalage Lahiru Sudesh Kumara.  He's quicker than the others and, more importantly, managed to get some extra bounce.  Watch him in the future.
If ever there was a situation set up for Colin de Grandhomme this was it.  Flat track, quick runs needed, and a tiring attack.
Watching Rajitha take him on with short pitched bowling at 127km and twice being dispatched out of the ground gave us an insight to what CdeG bowling to himself would look like.
Rajitha toiled away bravely, but he is no Chandradasa Brahammana Ralalage Lahiru Sudesh Kumara.
In the end he holed out to part-time spinner who throughout the test has clearly out performed Perera.
Then things got a bit confusing.  Tim Southee found a new way of getting himself out before Wagner fell to some short-bowling karma.  The Patel and Latham fiddled around for 9 overs with Latham turning down a lot of singles; a tactic with mass disapproval from the crowd.
Boult wasn't having any of that nonsense, and there was a bit of fun at the end.
The much anticipated Sri Lanka 2nd innings was a template of what can happen after you have spent two days in the field, and you're looking at a 296 run deficit.
Gunathilaka reviewed an LBW decision that was missing off and leg stumps, and de Silva played all over a straight one; miserable tests for both.   What was stranger was a half-hearted hook shot from Karunaratne given how well he had played in the first innings.
That weather forecast for Wednesday may not be such a worry after all.