Combinations & Permutations for Friday
0
by Sportsfreak
in Uncategorized
— 26 Jun, 2014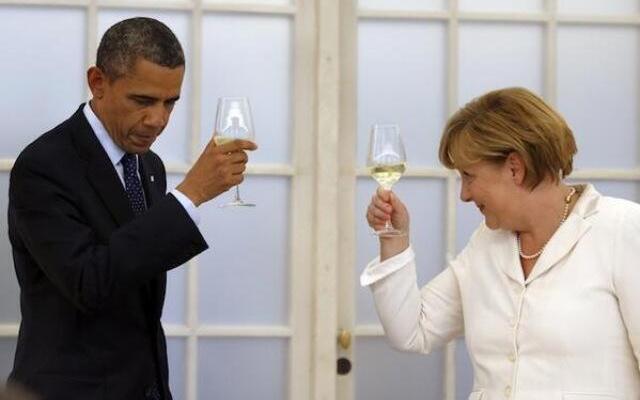 Group G
Clink Clink.
OMG!!  Germany and the USA can collude to draw their final match and both get through to the final round.  All that political power.  And sponsors. And Barrack and Angela are known to talk to each other. And Jürgen Klinsmann coaches the USA!!  And West Germany has done this all before, and Adidas is a sponsor, and so is MacDonalds, and OMG, and sponsors.
This ignores the fact that Germany are at minimal risk of not progressing even if they lost, and colluding with Americans at football would be a massive dent to national pride, so this is unlikely to occur.
Conspiracy theories to one side, we have a potential juicy scenario where the touchline staff will be glued to their iPhones checking out what is going on in the other match.
A Ghana win over Portugal by the solitary goal, and a USA defeat by the same margin would see the two sides level on points.
Should either of those results be by more than the solitary goal then Ghana will progress.
If the margin is identical but the scorelines different then the side in the higher scoring game will progress
If the results are identical then the USA and Ghana will end up on the same points with identical For and Against records, in which case the USA will progress due to having won the previous match between the sides in Pool Play.
Quite simple really.
As an aside, Portugal are tinsel covered toast.  Their goal difference scenario means they will not get through.
Good riddance.
Group H
Everyone's pre-tournament darlings Belgium are on their way to the Final 16; possibly creating a record whereby they are the first team to reach the knockout stages on the back of goals from substitutes only.
A couple of touches from Eden Hazard aside, their EPL stars have been woeful, but we were told they had depth from that Academy thing they have been running.
They play Korea, who like all other Asian Confederation sides at this tournament have been strangely abject.  It is three draws from 11 matches so far from the confederation.  Belgium should take at least a point from this.
So the interest is in the other group where the War mongering homophobes take on Algeria, and the neutrals will be cheering on the latter.  Algeria were unlucky not to get at least a point from their match with the Belgians, and were ruthless in ripping apart the Koreans.
Diego Maradonna picked them as dark horses before the tournament began; perhaps he's not as knocked off as some are suggesting.  Algeria should be good for the point they need to progress.