Combinations & Permutations for Thursday
4
by Sportsfreak
in Uncategorized
— 25 Jun, 2014
Group F:
A couple of weeks ago this site pointed out the obvious in stating this was a troubled group.  And that was even before New Zealand officials became involved, and Bosnia developed outrage.
Argentina has been scratchy to date, yet have done enough to ensure passage through to the Final 16.  Waiting until the clock passed 90 minutes before scoring against Iran for example.
They play Nigeria in a top of the table clash.   A draw would see both sides through in a situation like Germany and USA the following day, yet people don't seem so alarmed about that.  Even though it is the bigger candidate for a bit of detente fishiness.
Should the Argentina v Nigeria match be played in spirit then Iran has a chance.  They must beat the petition signing Bosnians and need Argentina to beat Nigeria and they are through.  It would be a change of mind-set for them to try and run the game though.  Their defensive tactics to date have been superb, but at this level you need a bit more than that.
Anyway, you would be a bit silly to bet on any of this.
How Ghana; demonstrably the superior side, must look upon Nigeria's draw with envy.
Group E:
Ooh la la.  Who predicted France turning up playing like this?
Les chats sont vraiment avec les pigeons.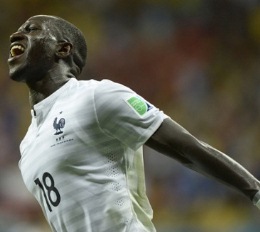 They may come to miss Frank Ribery at the business end of the tournament but they are certainly not missing him now.  Unlike the sides of 2002 and 2010 this team seems unburdened by petulance and egos.  The sight of a blue midfield rushing forward in number is reminiscent of those French sides of the 1980s.
Having said that they are not yet guaranteed a place in the final 16; a defeat by 5 or so goals and they could be in trouble.  That won't happen; Ecuador will be no push-overs but France should go through as top qualifiers here.
Fun Fact: Since 1938 France have either failed to qualify, got knocked out in pool play. or qualified for the semis.  Nothing in between.  Brazil and Germany can't claim that.
Switzerland sits behind Ecuador on Goal Difference at the moment, but they at least have the luxury of playing Honduras in the last round, and should go through as the second placed team.
Still though, they have made a mockery of the FIFA rankings going into this tournament.
As for niggly Honduras; they stick out as the exception that proves this World Cup has been an outstanding World Cup for CONCACAF nations.