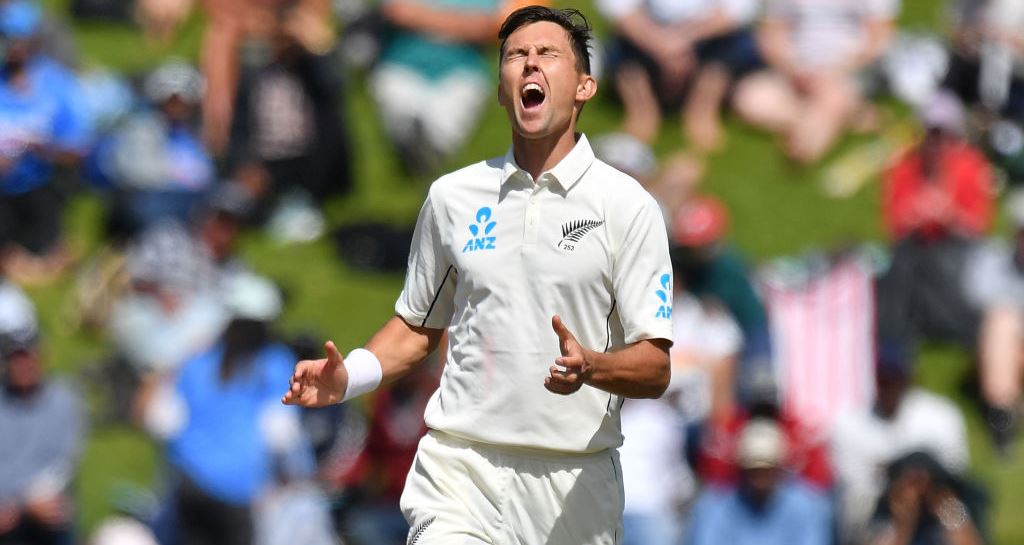 By his standards this has been a particularly frustrating season for Trent Boult.  There was the test against England at The Mount where he limped off on the final day.
He missed the Hamilton test that followed and was not fit in time for the Day-night test in Perth; a format in which he has a very good record.
He was back on Boxing Day though; providing the tour highlight with the fourth ball of the match.  Bu he was below his best in Melbourne and ended up breaking a finger meaning he missed the test in Sydney.
Since then his recovery has been carefully managed with this test against India being the target.  In the first innings he did not bowl badly as such, but did not have the rhythm and penetration of Southee and Jamieson.  Hardly a surprise given his lack of cricket in the last two months.
Then, just before lunch, we saw Trent Boult, Batting Entertainer.  He came in at 310/9 which was a lot better position than when Southee was the seventh batsman to depart at 225.
In 24 balls of shuffling, crouching and flicking he calmly went about scoring all of the 38 runs in a last wicket partnership with Ajaz Patel.  Another
world record for the collection; along with the most sixes by a 11; a record which he extended in this innings.
It was like a retro arcade game of wall breaker.  Boult would quickly move horizontally and randomly in his crease sending the ball back at all sorts of unpredictable angles finding their way between the bricks.
The bowlers had no idea which way he was going to move.
It was a lot of fun, and good bonus runs for New Zealand.  But it also brought Boult back into test cricket and gave him confidence for what was to follow.
And the bowling this afternoon was Boult back to his best, while also filling a bit of the gap left by Neil Wagner.
It was a mixture of short pitched bowling to set fields along with the conventional swinging attack.
The short ball accounted for Shaw, who timidly fended one to square leg, and Kohli, not having his best tour, who top edged a hook shot through to Watling.
In between he put Pujara out of his misery (he had previously spent 10 overs on 6) by swinging one into his stumps as Pujara shouldered arms.
He ended the day with 3/27 off 16 overs.  Welcome back.