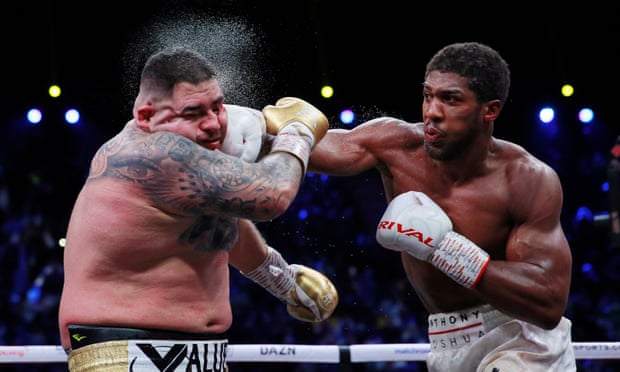 By Aiden McLaughlin
We've seen it before, we'll see it again. Boxer loses his World title(s) against the odds. Same boxer has a rematch written into the contract and wins those titles back against the same opponent as soon as possible. Anthony Joshua doesn't need to fight. He's made more money by the age of 30 than most of us can ever dream of. Today's victory means he'll make a lot more. But once you get to a certain level, you have to assume that it's not about the money; it's about the glory, the titles that bring those riches.
'I don't think I prepared as good as I should have. I gained too much weight but I don't want to give no excuses. He won, he boxed me around but if we do the third, best believe I will come in the best shape of my life.'
When Andy Ruiz Jr said this immediately after the fight, I shook my head; we all knew he had put on weight, that was made clear at the weigh-in when he tipped the scales at 128.6kg (7.1kgs heavier than their June encounter). I couldn't fault his honesty, but if he was showing such self-awareness immediately after losing convincingly on points he was effectively saying that the only way he was winning this fight was by stopping Joshua like he did before, and he was relying on Joshua making the same mistakes again.
'I have stayed hungry and I have stayed humble. I am humble in defeat and I will remain humble in victory.'
Ruiz Jr's victory in June was widely applauded. The underdog. The average Joe. For many, Joshua was shown to be overrated. A phenomenal athlete, but a limited boxer and one with a jaw that could be exposed – and it was. He was done, he should retire. Some parts of that may still be accurate (something we can judge again after potential fights against Deontay Wilder and Tyson Fury), but, armed with that rematch clause, he went away and learnt lessons. He completely controlled this morning's fight. At the end of the twelve rounds I tweeted that I thought Joshua had won 119-110. The three judges had it 118-110, 118-110, 119-109. I don't mention my scorecard because I think I'm a boxing expert, I mention it because that's how clear and obvious this victory was. Yes, Ruiz Jr looked dangerous on occasions but Joshua would have had to make a huge mistake to lose this fight. His preparation meant that wasn't going to happen. Ruiz Jr immediately asked for a third fight to complete the trilogy, but I hope it doesn't happen. There are bigger fights out there with more interesting questions for Joshua to answer.
Many think he's still behind Wilder and Fury and they will show his limitations. Maybe they will, but if Joshua loses against one or both of them, it won't be because of a lack of desire.
Follow Aiden on Twitter