Dream11 Super Smash – Week 4 Review
0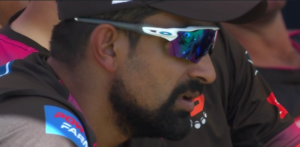 By Aiden McLaughlin
Auckland Hearts (142-5) beat Northern Brave (94-7) by 48 runs
The Auckland sides finally entered this season's competition at Seddon Park, starting with the Hearts on Friday afternoon. Hearts captain Lauren Down won the toss and decided to bat. Down and Anna Peterson made a decent start, putting on 33 before Peterson fell at the end of the fourth over, having made 14. Down went on to make 44 off 51 balls, but the star of the Hearts innings was Holly Huddleston, batting at five, who made an impressive 54 from just 34 deliveries. Down and Huddleston batted together for eight overs before Down was dismissed in the 18th over and Huddleston in the last over as the Hearts made a competitive score of 142 as Brave skipper Brooke Halliday, making her first appearance after Covid restrictions, led the bowling effort with 1-19 off her four overs. In response, the home side faltered early with both openers out within the first three overs with just 9 runs on the board, and the top four all departing within six overs as the score stood at 24-4, with Huddleston and Arlene Kelly grabbing two wickets a piece. Sam Barriball chipped in with 13 off 19 balls and Makayla Templeton and  Nensi Patel put up some resistance, scoring 14 and 32 respectively, but the damage was done early on, with the home side never able to keep up with the required run rate before falling to a heavy defeat despite three of their wickets remaining.
Northern Brave (167-6) beat Auckland Aces (165) by 4 wickets
There were plenty of returning Blackcaps on show for both sides as the home skipper Jeet Raval won the toss and decided to put the Aces in. George Worker made his debut for the Aces as he joined Martin Guptill in the middle, the pair making a strong opening before Worker was first to depart in the eighth over, with the score on 81, having made 36 off 24 balls. Guptill and Mark Chapman continued the scoring at a decent pace, before both departed in the twelfth over for 47 and 22 respectively and the scoreboard read 110-3. From there, Auckland lost their way with the exception of Robbie O'Donnell who hit 22 off just 14 balls, and were bowled out for 165 with one ball remaining in their innings, with the damage done by Scott Kuggeleijn (4-34) and Joe Walker (career best 4-31).
Otago Sparks (79-3) beat Central Hinds (75) by 7 wickets
The Sparks and the Hinds both came to Napier with 100% records this season, the Sparks unbeaten and the Hinds still searching for their first win. The trend continued in emphatic style despite the home captain Jess Watkin winning the toss and choosing to bat on a warm Hawke's Bay morning. Watkin was the first to fall, for a duck, in just the third ball of the innings, and there was little resistance from her teammates, with just three reaching double figures and only five boundaries scored in total as they were bowled out for 75 at the start of the nineteenth over. For the Sparks, Eden Carson recorded the second most economical T20 figures in women's cricket history in this country, taking 1 for 5 off her four overs. Molly Low took 2 for 7 off 13 balls, Kate Ebrahim managed 3 for 1 off her 3 overs and even skipper Suzie Bates took a wicket in her one and only over, her first competitive bowl since coming back from a shoulder injury. 75 was never going to be enough and Bates (14) Polly Inglis (27) and Ebrahim (17 not out) made the main contributions as they got there with 6 overs in hand.
Central Stags (180-4) beat Otago Volts (127) by 53 runs
With the temperature in the mid 20's, Volts captain Hamish Rutherford decided to put the Stags in, but openers Bayley Wiggins (22 from 15 balls) and Greg Hay (76 from 55 balls) led the way as the home side posted what seemed to be a total slightly over par given the uneven bounce on the McLean Park wicket. Dane Cleaver scored 45 and Tom Bruce 26 as the Otago bowlers struggled to find answers; Rutherford himself bowled an over and took his maiden T20 wicket in his 160th match, that of Josh Clarkson. By the time the Volts started their chase, the pitch was getting more and more tricky as it dried out. Their top four were out for 7, 7, 7 & 4 respectively, with three of them falling to Seth Rance, the first two giving him the chance of a hat-trick in the third over. Skipper Tom Bruce was also on a hat-trick as he picked up an unexpected 3-9 off his two overs. Blackcaps Adam Milne and Blair Tickner were the only bowlers not to pick up a wicket as Rance went on to take 5-19, the equal third best T20 figures for the Stags. Llew Johnson top scored for the Volts with 38 from 23 balls, but after that there was only brief resistance from Max Chu (12) and Jacob Duffy (16) before they were bowled out with 3.1 overs remaining.
Wellington Blaze (142-4) beat Canterbury Magicians (97-7) by 45 runs
After a two week break from Super Smash action, Blaze captain Maddy Green won the toss and chose to bat; a decision her Magicians counterpart Frankie Mackay acknowledged she would have made as well. Five of the six batters needed for the Blaze made double figures with Melie Kerr continuing her excellent form as she top scored with 50 off 41 balls. She shared a 75 run partnership for the second wicket with opener Rebecca Burns who scored 32. Jess Kerr scored a valuable 20 from 15 balls late on. In response, the Magicians got off to the worst possible start as Nat Cox was dismissed in the first ball of the innings. Mackay carried the innings as best she could from number three, ending unbeaten on 55 from 47 balls as wickets fell regularly at the other end. Blaze wicketkeeper Jess McFayden equalled the record for most dismissals in a women's T20 match in New Zealand with three catches and two stumpings. With no-one able to support Mackay, they just couldn't get near the required run rate and ended up 45 runs short at the end of their 20 overs.
Canterbury Kings (157-4) beat Wellington Firebirds (151-9) by 6 wickets
Firebirds captain Michael Bracewell won the toss and elected to make first use of the used wicket, but the left/right handed combination of Kings seamers Edward Nuttall and Matt Henry took regular wickets, ending up with three a piece, to restrict the home side to a total the Kings were confident of chasing. Finn Allen scored a typical 20 off just 9 deliveries, with three other batsmen making scores in the 20's and Tim Robinson top scoring with 32 off 26. The visitors made good use of the powerplay overs, reaching 62 by the time their second wicket fell at the start of the seventh over. Opener Chad Bowes led the way with 62 over 41 balls, and formed a crucial fourth wicket partnership of 69 with Cam Fletcher who had taken two excellent catches earlier on. Fletcher ended on 52 not out off 28 deliveries as the men in red got there with 21 balls in hand.
Auckland Hearts (105-6) beat Northern Brave (103-8) by 4 wickets
The long weekend of Super Smash action ended as it had begun, with Auckland taking on the Northern Brave, although this time it was behind closed doors at the Eden Park Outer Oval, a double header which was unable to have spectators attend due to Covid red light restrictions. Brave captain Brooke Halliday won the toss and elected to bat but it was the Auckland bowlers who made her regret that decision. Spinner Anna Peterson led the way with 3-14 off her 4 overs. Fran Jonas wasn't far behind with 2-17 off her 4 overs as the Hearts struggled to develop any rhythm. Caitlyn Gurrey top scored from the top of the order with 34 from 35 balls, but 103 was always unlikely to be enough. That said, the Brave battled hard in the field and when the Hearts stood at 58-4 after 12 overs, they were behind the required run rate. It was the fourteenth over that got them back on track with Katie Perkins scoring 5 and Arlene Kelly hitting 7 to give the innings momentum. Both batters ended up scoring at a run a ball, Perkins with 29 and Kelly with 15, to set up Izzy Gaze (10 not out) and Skye Bowden (5 not out) to see the home side take the win after 18.5 overs.
Northern Brave (93-4) beat Auckland Aces (92) by 6 wickets
A busy weekend of action concluded with Jeet Raval winning the toss and deciding that the Brave would have a bowl first in the hope that they could chase any score posted, given the small boundaries at the ground. They surely couldn't have expected to restrict the Aces to just 92 however as the Brave bowers excelled. Only one of the Aces batsmen reached double figures and that came in the unexpected form of fast bowler Lockie Ferguson who smashed 26 over 24 balls from number 8. Anurag Verma dismissed both openers on his way to 3-14 off 3 overs and Freddy Walker ripped apart the middle order, dismissing Robbie O'Donnell and Ben Horne in the 9th over, before finishing with 3 for 10 over 2.2 overs. Ish Sodhi's 2 for 5 off his 4 overs was the most economical spell in the history of the T20 format for men in New Zealand. It was a comfortable chase for the Brave, with openers Katene Clarke and Tim Seifert putting on 65 for the first wicket before Clarke was dismissed in the tenth over. Seifert ended not out, top scoring with 38 off 42 balls as the visitors ended proceedings early with 29 balls remaining.
Week 5 Fixtures
Thursday 23rd December (Bay Oval)
3.10pm – Northern Brave v Canterbury Magicians
6.40pm – Northern  Brave v Canterbury Kings
Friday 24th December (Basin Reserve)
11.10am – Wellington Blaze v Auckland Hearts
2.40pm – Wellington Firebirds v Auckland Aces
Sunday 26th December (Hagley Oval)
2.10pm – Canterbury Magicians v Otago Sparks
5.40pm – Canterbury Kings v Otago Volts
Follow Aiden on Twitter