Dream11 Super Smash – Week 8 Review
0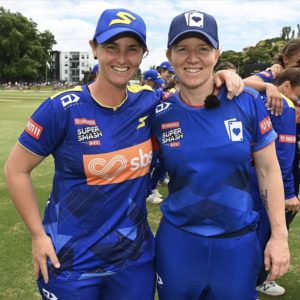 By Aiden McLaughlin
Central Hinds (113-6) beat Northern Brave (110-4) by 4 wickets
Bay Oval hosted the first double header of the week and the home captain Brooke Halliday won the toss and elected to bat. Although both sides were already out of contention for the top three, the Hinds were looking to avenge their loss to the same opposition at Pukekura Park at the end of December and stay off the bottom of the table. Although Brave opener Caitlin Gurrey carried her bat, her 58 runs came off just 50 balls and she and her team would have been frustrated she couldn't face the majority of deliveries, especially as none of her colleagues were able to score double figures. With the ball, White Fern Rosemary Mair stood out for the Hinds with 3-22 off her four overs as they restricted the Brave to what appeared a very achievable total. However, when Halliday took the wicket of Mair with the first ball of the 11th over, the visitors were 61-5 and the Brave were still in with a shout. Nensi Patel and Lauren Heap had both taken two wickets a piece by that stage and finished with 2-20 and 2-23 respectively off their four overs. However, incoming batter Hannah Rowe put on a decisive sixth wicket partnership of 35 with Mikayla Greig before Greig was stumped off the bowling of Charlotte Sarsfield; at that stage 15 runs were required off 14 balls. Georgia Atkinson came to the middle and scored 9 off 8 balls and Rowe, who finished 27 not out (off 25 balls) clinched victory with two balls remaining.
Northern Brave (176-7) beat Central Stags (157-8) by 19 runs
Visiting skipper Tom Bruce won the toss and on the back of consecutive losses where the Stags had been trying to defend totals, decided to put the Brave in to bat. Having reduced the home side to 33-2 after 4.3 overs, with Blackcaps Jeet Raval and Tim Seifert the men back in the sheds, another Blackcap, Colin de Grandhomme came to the middle and fired 86 from 45 balls. By the time he departed late in the seventeenth over, the Brave had reached 150-5 with the next best contribution 32 from 28 balls, by Joe Carter. Blair Tickner was the best of the opposition bowlers with an impressive 3-20 off his four overs with Jayden Lennox not far behind, taking 2 for 24 off his allocation, but the Brave were able to get up to 176. The Stags were unable to build sustained pressure on the Brave bowlers in their reply; opener Ben Smith was their best, batting all the way through to the start of the 18th over as he amassed 68 off 53 balls. But with their next best effort Josh Clarkson with 20 off 12 balls, and five of the Brave bowlers taking wickets, the Stags would be well short by the end. Mitch Santner posted the best figures for the Brave on the day with 2-25 off his four overs, but Joe Walker, bowling just one over, managed to pick up the key wicket of Smith that all but ended the hopes of the Stags.
Otago Sparks (107-0) beat Auckland Hearts (106-6) by 10 wickets
It was a big occasion for two stalwarts of New Zealand cricket as Katey Martin and Katie Perkins brought up 100 T20 appearances each for their provinces. Home skipper Lauren Down won the toss and decided to have a bat. Although the Hearts didn't lose a wicket until the penultimate ball of the 10th over with the score on 59, when Perkins departed for 23 off 34 balls, the Hearts struggled with the pressure the Sparks bowlers were able to exert. Hayley Jensen took the wicket of Perkins and then followed it up next ball to dismiss Izzy Gaze; she would finish with 3-21 off her four overs. Down struggled to find any support from her teammates before falling to Sophie Oldershaw for a 40 ball 49 at the start of the fifteenth over and the Hearts limped past the century mark, a total which felt well short of par. In response, Polly Inglis outshone Suzie Bates as they chased down the target with almost four overs to spare. They reached 50 at the end of the ninth over, and Inglis would hit the half century mark off 46 balls before making a total of 61 off 58 balls, while her experienced partner made a run a ball 40 to ensure a 10 wicket victory.
Auckland Aces (133-9) beat Otago Volts (130 all out) by 1 wicket
Hamish Rutherford called correctly and decided to bat at Eden Park's outer oval. He and Neil Broom put on 58 before Broom was dismissed by Lockie Ferguson, halfway through the sixth over. Rutherford himself was out for 25 shortly afterwards, with Mark Chapman taking a catch off the bowling on Will Somerville and from there the Auckland bowlers shared the spoils; five of the six bowlers used took two wickets a piece and only Llew Johnson (14) and Angus McKenzie (11) were able to get to double figures as the Volts were bowled out with 8 balls of their innings remaining. A modest target suddenly looked anything but, when the Volts took 5 wickets in the space of eight balls to leave the Aces shellshocked at 13-5 halfway through the third over. When captain Robbie O'Donnell was dismissed four overs later, the home side were 26-6 and in danger of recording the lowest total in SuperSmash history (which stood at 72). Sean Solia and Somerville were tasked with the recovery and they managed to put on a 77 run partnership over the next 10 overs to leave the Aces needing 28 off 21 balls, before Anaru Kitchen (who would end up with figures of 4-11 off his four overs) bowled Somerville to put doubt back in the home changing room. Ferguson hit a quick fire 14 off 5 balls to ease the nerves but when he was dismissed with 11 needed off 12 balls, only two wickets remained. Adithya Ashok came out next and scored 5 off five balls before being caught with four balls remaining to see Ben Lister walk out, with 3 still needed. As the batters had crossed, Solia was on strike and managed a single next ball to leave Lister facing his first ball with two still needed. Lister was able to hold his nerve however and score a boundary to secure victory with two balls and one wicket remaining.
Wellington Blaze (51-2) beat Northern Brave (46 all out) by 8 wickets
The Blaze have made a habit of winning the toss and setting big totals throughout this season's competition, but on this occasion Maddy Green called incorrectly and Brooke Halliday decided that the Brave would set a total to chase. Unfortunately for the home team, that was as good as things got. Amelia Kerr posted bowling figures of 3-9  from her allocation but was outperformed by a record breaking haul by off spinner Xara Jetly, who took 4-1 off three overs. It also eclipsed Kerr's Blaze record of 4-4. Halliday (10 from 15 balls) and Sam Barriball (22 from 36) were the only two batters to put up any resistance as the Blaze were bowled out for 46 in 16 overs – the lowest total in SuperSmash history. It was a question of how quickly the away team would knock off the runs. Sophie Devine, back from a stint in Australia to play her first game for the Blaze this season, top scored with 20 off 14 as they got there after just 6.2 overs to continue their eight match unbeaten run in this season's competition.
Northern Brave (105-4) beat Wellington Firebirds (104 all out) by 6 wickets
The final match of the week saw the top of the table Brave host the third placed Firebirds and when visiting captain Michael Bracewell called correctly, he decided to have a bat. They faced an excellent all round bowling performance from a high quality Brave line-up; Anurag Verma led the way with 3-25 and Joe Walker (2-14) and Mitch Santner (2-15) were next best as the Firebirds were bowled out for 104 with nine balls remaining. Jimmy Neesham top scored for Wellington with 20 from his 21 balls. The Brave reply was kept in check early on as Tim Seifert (15 from 12 balls) and then Joe Carter (first ball duck) were out in the space of three balls, but when Colin de Grandhomme was able to play a controlled innings of 41 from 46 balls, the home side were in charge and ultimately got across the line with an over to spare to extend their lead at the top of the table to 6 points from the Canterbury Kings.
Week 9 Fixtures
Tuesday 18th January (Hagley Oval)
3.10pm – Canterbury Magicians v Auckland Hearts
6.40pm – Canterbury Kings v Auckland Aces
Thursday 20th January (Eden Park Outer Oval)
11.10am – Auckland Hearts v Wellington Blaze
2.40pm – Auckland Aces v Wellington Firebirds
Friday 21st January (Hagley Oval)
3.10pm – Canterbury Magicians v Northern Brave
6.40pm – Canterbury Kings v Northern Brave
Saturday 22nd January (Eden Park No 1)
10.10am – Auckland Hearts v Central Hinds
1.40pm – Auckland Aces v Central Stags
Follow Aiden on Twitter