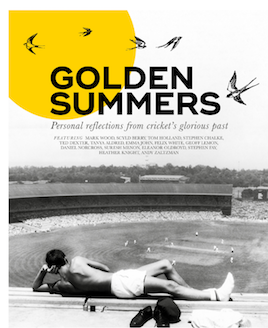 When Graeme Swann sealed a rare Ashes win at Lord's in 2009 the celebration was given extra warmth by that fact that this was the first English fixture for over 70 years.
And so starts Golden Summers, a Wisden produced book of 50 essays charting the summers of primarily English from 1934 until the present.  The essays are great, the pictures superb, but its real allure is the quality of the writing.
All of the essays have previously appeared in Wisden; this collates them, adds some iconic photos, and politely asks to be on your coffee table.
They are from a range of cricket writers reviewing a particular season from a personal point of view, with a historical perspective provided.  For example Vic Marks writes about the 1976 West Indies tour of England when Viv Richards and Michael Holding announced themselves on the world stage in that legendary demolition of England.
But that essay is not so much about the test series, but more about how it accelerated the use of helmets by batsmen, with universal adoption still a couple of years away.  An evolution of the game which gets explained from within.
There is, predictably, an English focus to the book, but that is not exclusive.
Pat Murphy writes about how he got to author the biography of EJ "Tiger" Smith.  At the time Smith was the oldest living cricketer.  He'd been captained by WG Grace, kept to SF Barnes, and umpired in an Ashes Test.
The rule was he wasn't allowed to publish until after Smith's passing.  When that happened the highlight for Murphy was that he inherited 40 or so Wisden in Smith's will.
And in 1981, a belligerently sport hating teenager Tom Holland went to see Excalibur at the movies and immediately bought into the Ian Botham mania metaphor of that year.
Like many New Zealanders the temptation is to flick through to the essay from 2019.  As it turns out this is written by Mark Wood who played in that final.  There is reassurance in the revelation that he hated the World Cup Final too; he really hated it.  And it is a good account of how the pressure of the situation can take its toll.
In Geoff Lemon's moving piece about the 2000/1 West Indies tour to Australia, and the official and sad transfer of power, there is a MCG so big reference.
It seems wrong to pull out one essay as being superior to the rest, but Simon Barnes on the 1983 World Cup is a superb piece of writing.  Barnes had recently returned from a four year OE in Asia so had mixed loyalties going into the tournament.
He goes into how limited overs cricket was so different then; "It was to be held in England for the third time running, for where else could it ever be played?"
On the semi-final "India bowled beautifully on a pitch that suited their seamers of quiet pace, and England could only make 213.  That's 213 off 6o overs.  (The to-date record for a T20 international, by the way, is 278.) 
On the final itself he believes that if India had scored more than 183 they would have lost; a total that West Indies were simply unable to take seriously. 
The long afternoon unfolded with the mad logic of Alice through the Looking Glass.  Everything was the wrong way around, but it was beyond anyone's power to change it.
Then there is tale from Elanor Oldroyd who in 1987 became the first female broadcaster with a posting with BBC Radio Shropshire covering minor counties cricket.  As a child she was known for being the girl walking around the playing fields with a thick yellow book in my hand.
"To get a day off to go to Lord's to watch the Ashes in 1977, my father wrote to my headmistress "Elanor has expressed the desire to be the first woman cricket correspondent of The Times, so I feel this would be an educational visit."
And so a teenage ambition was born.
Elanor Oldroyd is now a broadcaster with BBC Radio.  She co-hosts BBC Radio 5 Live's Saturday Breakfast and has twice been names the Sports Journalists' Association Broadcast Presenter of the Year, in 2014 and 2016.
Then there is the 2005 Ashes and a tribute to the West Indies team in England in 1984.  A team that, in hindsight, was unlikely to be replicated.
Golden Summers is a great account of cricket's great moments.  But it's more a showcase of great essay writing with a selected choice of some the best cricket photography going around.