Looking Back – The Masters 1997
2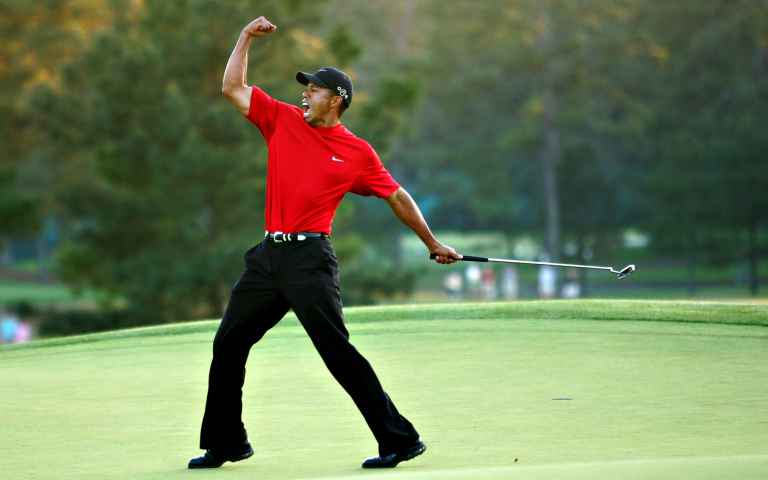 By Aiden McLaughlin
When he arrived at Augusta for The Masters in April 1997, Tiger Woods had played the tournament twice before. Tied for 41st and a missed cut had been his results and he'd never broken par in those 6 competitive rounds. However, having turned professional in 1996 he had quickly racked up 3 wins in 14 starts on the PGA Tour; his massive potential was already being realised.
Hard working, dedicated and ambitious, Woods looked for any edge he could get. At Augusta in 1995 & 1996 he was having practice rounds with the likes of Jack Nicklaus, Greg Norman and Fred Couples. Far from being intimidated, he was absorbing their knowledge like a sponge.
In Round 1 this time, he went out with defending champion Nick Faldo, and it didn't start well. Tiger shot 40 on the front 9. He was angry and at the turn, the switch was well and truly flicked. Birdie at 10, was followed by par at 11 but then he hit over the green at the par 3 12th. Surely he was looking at a bogey, but in the style we would see many times in the years to come, he chipped in from the rough for a birdie; he was off. Four birdies and an eagle on the back 9 saw him in the clubhouse with a round of 70, 1 shot behind Paul Azinger, who he played with in Round 2. Another big name, but Tiger, again, would not be intimidated. He took the tournament lead with an eagle at 13th and his 66 saw him ahead by 3 at the halfway mark.
Round 3 and Colin Montgomerie, looking for a first major and to get to No 1 in the World Rankings was alongside him. The previous evening Montgomerie had said:
'There's more to it that hitting it a long way around here….I have a lot more experience in Major Championship golf than he has.'
The next afternoon, as they left the putting green on the way to the first tee, his coach at the time, Butch Harmon, said to Tiger, 'Show Colin Montgomerie who you are.' Tiger replied, 'Don't worry, I will.'
Tiger was hitting the ball 320 yards off the tee, Montgomerie a (then) respectable 270, but Montgomerie was right, there was more to it than hitting it a long way. Tiger shot a 65 compared to his playing partner who went round in 74. He was now 9 shots clear, the biggest 54 hole lead in Masters history.
Tiger needed a final round 69 to beat Jack Nicklaus and Ray Floyd's 72 hole record at Augusta of 271 and with a five footer for par on the last, that's exactly what he shot for a tournament score of -18 and an incredible 12 shot victory. By way of contrast, his starting nine of 40 was, by two shots, the worst start ever for a Masters winner; he had managed the last 63 holes in an incredible 22 under par.
23 years later and Woods is again the defending Masters Champion, whenever the next edition takes place. There's been 5 Green Jackets in a total of 15 major championships and 82 PGA wins.
There's been well documented personal issues and a huge number of injuries; how he still gets out on the course is incredible. It's a career that is up there with the greatest of all time in any sport. 1997 wasn't quite where it all began, but it was where it reached another level. It was a performance that I and many others will never forget.
Follow Aiden on Twitter