Is it time for another Steven Adams Biography book review?  Maybe not, but it's worth it.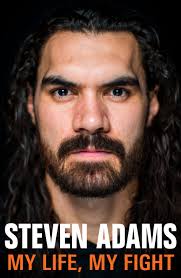 Adams's upbringing is best described as unorthodox.  He was one of 14 (he suggests maybe more?) siblings, and he got introduced to them gradually throughout his childhood.
It was like every Christmas time there was a tradition of being introduced to a new family member he never knew he had.
The chapter around the passing of his much loved father, and how it brought the widely varied siblings together, is a highlight.
 "It was 10 o'clock at night and this massive family was crying and then laughing and then crying and laughing again. I don't know if it's a brown thing, but if you're not laughing at the hospital, no matter what the situation, you're doing it wrong."
Once he passed away his children then had the task of preparing the funeral.
Dad was white, but none of his kids were.   So instead of trying to decide between a Tongan, Maori or Tokelauan funeral, we just made up our own version.
Essentially orphaned, he moved to Wellington as a 13 year old, met Kenny McFadden, and after two years off attending school, enrolled at Scots College.
Wellington people will understand how he was initially treated as an alien there.  But substitute St Kents or Christs and you get the feeling.  His first month at the College he wore basketball clothes because they hadn't manufactured a uniform big enough for him yet.  Challenging.
Self-deprecating honesty is a New Zealand thing, and Adams has it nailed.  For example he admits he was surprised at being named MVP in the Under 17 national champs and is honest enough to realise it played a factor in his continuing desire to push on with his devotion to training.
His bond with those age group Wellington teams was the greatest he's ever had; even more than with the Thunder.
Actually, he seems to be at his happiest when doing physical training; the weights, Tabata workouts, the spin, yoga, even bench-pressing rather than playing basketball.  When he got to go to his first NBA match, at the LA Lakers, he didn't really watch the game, preferring to enjoy the food and trappings in a private box.
He still doesn't watch basketball.
The section on the Pre-Draft Workout Diary is very well put together.  It starts with Adams being like a kid at Disneyland, marvelling at how professional and well-resourced the various clubs are.  As he zigzags across USA the other side of his personality starts to kick in; the competitiveness and attention to detail.
He rates the various facilities as he goes along and is able to get a feeling of the culture within each set-up.  Part of the tests he performs are sessions with psychologists where he got asked such gems as how many golf balls would fit inside a bus.
The section about why he won't make himself available for the Tall Blacks has been well documented.  It is a strange one; and you can make your mind up as to what is going on there.  It does put a negative tone to an otherwise positive tone of making the best of what he had throughout the rest of the book.
In New Zealand I'm part of a brown minority.  In the NBA I'm in a white minority.  And in Oklahoma City I'm somehow both.
He states several times that he likes it best when his back is against the wall.  He also states he had a good memory; perhaps the stance is a combination of the two.  The Outsider.
He never got the outcry about calling Steph Curry and Klay Thompson "quick little monkeys" because, as a son of a Tongan mother, and then at Scots College he didn't understand the concept of punching down.
This is a very good book and, above all, a very Kiwi book.  The small town boy for provincial New Zealand with the unorthodox family finding his gift and then really working hard at things before making the big stage.
In the meantime, how many golf balls would fit inside a bus?