By Stephen Gallagher
THURSDAY:
Saint George Illawarra Dragons V Canberra Raiders – Jubilee Oval – 21.50
Oh when the Saints come marching in! Here's a good chance to get their season going.
The Raiders have a great record against the Dragons, but the Red V have been playing well over the last couple of years against the Green Machine. Before they step out on the pitch I can see this game going down to the wire.
The Dragons forwards have lacked in punch lately, which is exactly where the Raiders are going to target them on the field. The Raiders team over all is stronger and better, so Saint George Illawarra will have to up their game to win.
Both having a week off, this is a great match to kick start Round 10 – There's so much to play for.
TIP: The Dragons will take the W, but not by a lot. Dragons 1­12.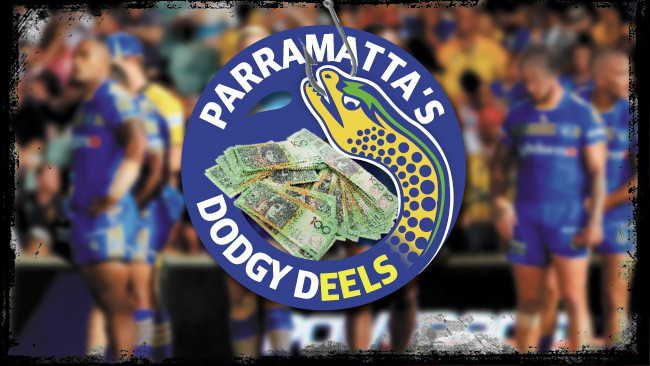 FRIDAY:
Parramatta Eels V South Sydney Rabbitohs – Pirtek Stadium – 21.50NZT
There's going to be a lot of interest surrounding this game, unfortunately for off field reasons. How will Parramatta cope? That's going to be the biggest question.
After what's been a disastrous week for the club, they will need their fans more than ever to turnout at Pirtek.
There's no two ways about it that the Parramatta Eels are cheats – unfortunate for them, they cheated without prospering.
The Rabbitohs are winless through four, and that is desperation right there.
The Eels are going to have to be wary of the Rabbitohs. Parramatta are a strong starting side, and Souths are going to have to counter that big time.
TIP: The Eels get the goods, 1­12. Nathan Peats to score the last try.
SATURDAY:
Penrith Panthers V New Zealand Warriors – AMI Stadium ­ 17.00NZT
Congratulations on Penrith, taking their home game to Christchurch, New Zealand. The last time an NRL match was played there was between the Roosters and Warriors in abysmal conditions.
Saturday's forecast however is quite good so I don't see the rain playing a part.
The Panthers have been one of the most competitive sides this season. They've been there, or there abouts all year and now need to start transforming their close losses in to close wins.
The Warriors have this game to get their season even – and with a great showing before the week off, you could say they should get up for this game again.
The Panthers are undersized up front, but are starting to find their feet. If anything, the Warriors on paper are a better side. This game is more than just names on a paper though.
The Warriors have to outplay the media headlines and start talking on the field. The Panthers won't let them get away with a cheap win, it'll be a physical affair where one team will earn this victory.
TIP: A Shaun Johnson double lifts the Warriors to a win, 1­12.
Melbourne Storm V North Queensland Cowboys – Suncorp Stadium – 19.30NZT
3rd V 1st – it's set up as a fantastic showdown. At the unusual venue of Suncorp Stadium, this game is going to be better as a curtain raiser than the main event after this one.
This is the game of the year I think. It's so hard to separate these two sides.
Built on a solid halves pairing, with dominant representative forwards, and stunning silky backs these sides really are similar.
It's also going to be interesting how these two clubs fare after a week off, however most did feature in the representative round.
I am going to pick the premiers to get up, based on that fact. They're champions.
TIP: A Storm penalty goal early will kick off the scoring, but the Cowboys will win 1­12.
Manly­Warringah Sea Eagles V Brisbane Broncos – Suncorp Stadium – 21.55NZT
I have no idea why this is 'Manly's' home game – but they're going to be up against it against this incredibly powerful Brisbane side.
I think the difference between these two sides is quite a lot, the Sea Eagles will have to prove that they are good enough to knock off this Brisbane sized iceberg.
The Broncos side are going to have to carry on their winning ways, and if they get a good win against this Manly side – they're going to set themselves up great for the rest of the season.
TIP: Broncos 13+
SUNDAY:
Newcastle Knights V Cronulla Sharks – Hunter Stadium – 16.00NZT
The Knights are last on the table, and they've showed no real reason to be anywhere else. Newcastle's roster is poor, their style of football doesn't help their ways, and playing against fourth placed Cronulla does not make this task any easier.
Cronulla have been sensational so far this year. Maloney and Townsend are pressing for State Of Origin representative jerseys, and their forward pack has laid a platform which has got them where they are.
For the Knights to win? They're going to have to play their best this season. It's not light working taking on Cronulla, and the Newcastle boys have their hands full.
If they can somehow outmuscle them, it could be game on. The Knights will have to execute all their opportunities close to the line.
TIP: Hard to see anything other than a Sharks victory. Sharks 1­12
Wests Tigers V Canterbury Bankstown Bulldogs – ANZ Stadium – 18.00NZT
So the Tigers come off a win last round, and the Bulldogs didn't.
Was the win over Souths the turning around of the Tigers season? I highly doubt it – but I will think twice of this statement if they do get the lollies against the Doggies.
Canterbury­Bankstown are a side that rely heavily on a strong start. Players like Reynolds, Kasiano and Graham all play on instinct and confidence. They are playing who like to get on a roll quickly to continue to dominate the game.
The Tigers have to ask plenty of questions of themselves. The youngsters who make up this side have to play hard.
MONDAY:
Gold Coast Titans V Sydney Roosters – CBUS Super Stadium – 21.00NZT
The fall from grace the Titans have suffered has been hard to watch, if you're one of the 200 fans the Gold Coast have.
The Roosters season is going to get better, and if they can manage just their third win of the season against the Titans, then watch out. The other teams will have to take notice.
I hope after the week off, the Titans can regroup and find some success. They're an enjoyable side to watch them they're on.
The Roosters side is getting stronger too, their getting a fit team just in time. Don't count them out of a late flurry.
This game is won on execution. Both sides have been poor when it counts, so upon getting in the red zone – they're going to have to strike. Which means, whoever can hold out will win.
TIP: The Roosters will take a scrappy affair, Titans half time.
Follow Stephen Gallagher on Twitter