Plunket Shield Summary. Round 1
2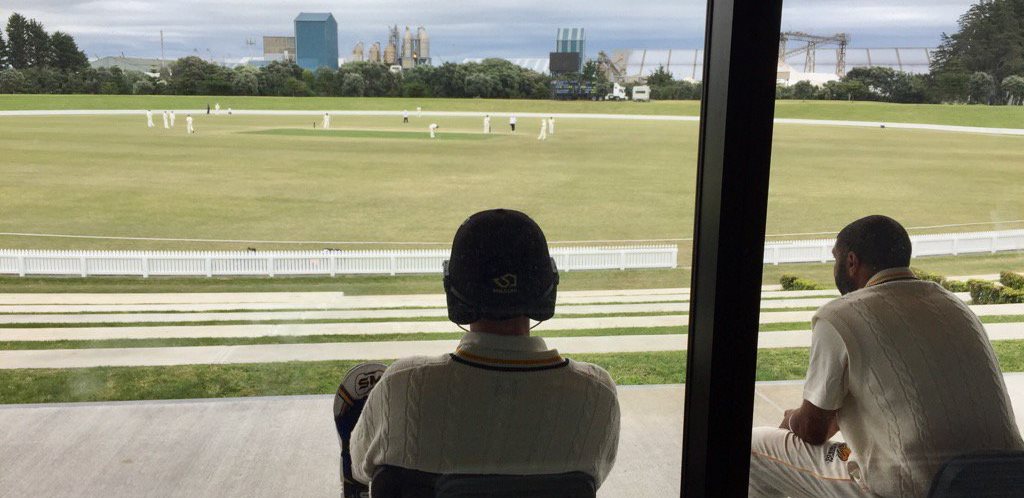 It has started early, but this Plunket Shield is more important than usual, given the holes left in the New Zealand test team following the tour to India.
At best there are five certainties for the first test against Pakistan, so it's important to follow what's going on here.
Opening Batsmen
All eyes need to be on this slot; there is a gap to be filled, but it needs to go to somebody who has actually earnt it.
Front runner and semi-incumbent Jeet Raval.  47 & 31.  That's not bad as such, but hardly knocking the door down.
Hamish Rutherford.  Remember him?  When he came out last week and said his intention for the season was to be more aggressive a few people probably flinched.  143 & 73 wasn't a bad start.
Dean Brownlie.  Remember him?  104 and 20.  He is still in the mix.
Luke Woodcock.  You may remember his as an occasional ODI spin bowler who played in the 2011 World Cup.  He has reverted to being an opening batsman now and scored 98 in Wellington's victory over Auckland.
Then there was his opening partner Michael Papps.  Scores of 2 & 57 were unremarkable but he became the first player to bring up 10,000 Plunket Shield runs.
However, the most successful opener for the round was Otago's skipper Brad Wilson with consistent knocks of 111 and 117.  That Otago v CD game was very high scoring though.  Greg Hay also scored 136.
Other Batsmen
The eye-catching knock of the round was from one test player Todd Astle who scored a career best 195.  Neil Broom made 93 falling just short of what would have been his 18th first-class century while CD's Tom Bruce, who comes with big wraps, made a quick 78.  Higher honours, in the shorter fors of the game at least, could well come this summer.
There was also an 11th first-class century for Stephen Murdoch.
Tim Seifert, ND's keeper therefor presumably a New Zealand rep in waiting, had a handy double with 81 and 31*.  He came in when ND was teetering a bit in its 4th innings run chase but it would appear he wasn't too phased by that.
Bowlers
Auckland's Lachie Ferguson took 5/44 in Wellington's first innings, as well as some useful lower order runs.  They rate him in the 09.
But the figures of the round went to the busy Scott Kuggeleijn whose haul of 6/60 against Canterbury turned out to be a match-winning one.
Wellington bowling coach Brent Arnel claimed four wickets in each innings.
This was the first in a new series of Plunket Shield wraps.  Given the tournament has no radio coverage anymore someone has to do it.  However, it is almost exclusively done by reading scoreboards and NZC Press Releases.  If you happen to go to any of the matches and have some observations to make please e-mail freak@sportsfreak.co.nz with feedback.  Cheers
In the meantime, here is Papps talking about the Firebirds' first-up six-wicket victory this afternoon over defending champions Auckland, and his fellow opener Luke Woodcock having been bowled on 98 when just 10 further runs remained to be found for the victory.