Some bits and pieces from The Basin
3
Another Basin Reserve test; the first following McCullum's 302 and the last before New Zealand co-hosts the Cricket World Cup for the first time in 23 years.  And there was that key to Wellington thing going on.
If you look at the scorecard you would think it was a pitch of terror, the ball must have been swinging all over the place and batsmen never had a chance.  This was not the case; New Zealand did score at four runs an over, and Sangakkara was never troubled.
There was some sideways movement, but it was just one of those days when the half chances just happened to result in a wicket.  The most obvious example of this was Silva who chopped the ball into the ground, and it bounced up before landing on top of the bails.
There is no way Taylor, McCullum and Williamson will all play on the same session again.  The bounce in the pitch has been blamed for this, but that is probably only part of the story.
As an aside, for the second test in succession, Kane Williamson breezed to 50 looking the best batsman in the world before strangely struggling before getting out.
The only real gripe of the day was the Sri Lanka over rate.  49 overs by tea is just unacceptable.  Swapping your mid-off and square leg fieldsmen is marginal at best, but when you do it just as the bowler is about to start his run-up is wrong.  Chris Broad needs to take some action here.
Anyway, this is Brendon McCullum's key to the city of Wellington.  He becomes only the third person recorded as receiving the honour, after Sir Peter Jackson and Richard Taylor.  That is Pounamu stone as part of the base, and that fantail thing above it is a representation of the RA Vance stand roof.  It might not look like it from the photo, but it actually works well.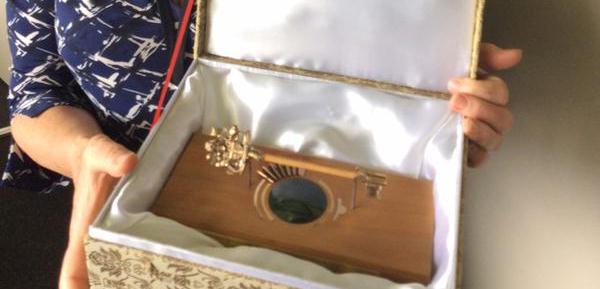 Don't hate; New Zealand needs more recognition of success and feats