Sportsfreak Reviews "The Kick" or #TheKick
1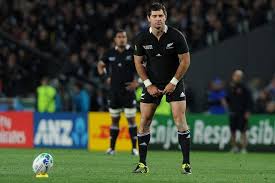 "Watch the Ball"
A bit like the 2007-2011 Waikato Chiefs Rugby team "The Kick" or #TheKick wasn't as bad as it could have been and in fact was very good in most places.
Actor David de la Tour (who appeared to have been born to play the man known as "Beaver") did a very good job reprising the role the Donald played, primarily from the All Blacks disastrous match against the Wallabies in 2010 in Hong Kong when in the space of 5 minutes he missed an easy penalty goal attempt and then failed to find touch resulting in a Wallaby victory for the much coveted DHL Trophy.
The story is well known from there, cast to the scrapheap Donald receives a late call up to join the All Blacks RWC Squad after just about every first five eighth playing in New Zealand gets hurt during the tournament and subsequently kicks the penalty goal against France that makes the difference in the final (the kick still looked like it missed to me almost 3 years later).
Some of the casting was inspirational, in particular Ted and Shag (aka Henry and Hansen) who's mannerisms were well captured (Ted with his hands behind his back and head down and Hansen with his prominent 'paunch'). The producers also made sure De la Tour had all of Donald's looks and mannerism's down-pat (the wrist strapping used to wipe his nose constantly before kicking for goal was particularly well done as well as was his bandy gaited running style (attributable to ill-fitting boots as a youth according to the script). Other great pieces of casting were Maa Nonu and Piri Weepu (right down to cooking the boys a feed of Whitebait in the Hotel with shades of 'Suzy the Waitress' just waiting to occur).
But like all of these productions there were also some features that went into the "could do better" category, in particular the shabby casting of All Black Skipper Ritchie McCaw (the bad haircut and dull persona should have been relatively easy to reprise) and good mate of Donald's Richard 'Kaks' Kahui who was neither tall nor good looking enough for that role. I also had trouble differentiating between Kieran Read and Jerome Kaino throughout the feature but due to their small roles this didn't seem to matter as much.
A few other thoughts:
– Do professional Rugby Players really drink that much beer?
– Does Beaver really have an outdoor Pizza Oven?
– Was the love interest (a pretty Horsey-set girl from Cambridge) an add-in or based on fact?
Oh and the best line of the night was from one Donald's Junior Rep Selectors when asked about a lad named Kieran Read who they had picked "dunno – never heard of him" – pure Gold.
Sportsfreak Mark: Three-and-a-half stars.