Test Match Therapy: Those That Stopped a Nation 6
0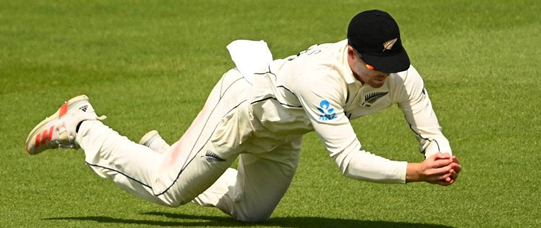 By Euan McCabe
India at Southampton, June 18-23, 2021
India 217 & 170
NZ 249 & 140/2
New Zealand won by 8 Wickets
Not so much a Test that stopped a nation, this was more a Test that kept a nation awake for six nights.
It was remarkable how much people invested in and discussed this Test match given just how little was happening for most of the time. And in the middle of our night. Who could have possibly predicted such watercooler stardom?
It rained an awful lot in Southampton and it seemed that several days would elapse between each tentative lifting of the covers. Not that I cared. The ICC's pre-ordained decision that both nations would get to share the trophy in the event of a drawn match was perfectly fine by me. I was so desperate after the Lords catastrophe for the words New Zealand to be inscribed forever on that Mace that I cared not in the slightest how it came to be. Bizarre as this sounds, the only danger now of New Zealand's name not appearing on that Mace was if there was actually some cricket played in Southampton.
Of course some cricket was eventually played in Southampton. Just enough as it turned out. It was a kind of boutique Test match in the end, a classy little number squeezed in amongst all the gloomy light and mopping up of the outfield.
And despite all of the weather-related challenges and lost time, it still managed to produce the perfect Test match scenario of all three results still being possible on the final morning.
In the end it was a day of cricket that belonged almost exclusively to New Zealand. From Kyle Jamieson removing Virat Kohli early to Kane Williamson having his LBW dismissal overturned, the critical key moments that win close Test matches favoured the Black Caps.
The only real blot was Tim Southee's inexplicable dropping of Rishabh Pant in the slips off Jamieson. Southee is the best third-slipper in world cricket and it was straight-forward chance, with Pant also new to the crease. I was absolutely fuming at the time, but the facial expressions were simply priceless: Jamieson was livid, Southee mortified, Williamson bemused.
Pant is one of those nuclear-propelled keeper-batsmen in the mould of Adam Gilchrist and Brendon McCullum – the type of player who becomes more attacking the more challenging the situation; those who can change the direction of a close contest by spending one session at the crease. He clobbered his way to 41 before charging Trent Boult and getting a leading edge which flew high into the now-blue Southampton sky. This prompted what I now regard as one of the great moments in the history of New Zealand Test cricket: The Nicholls Catch.
The speed of thought and movement, the fixed eyes on the ball, the technical excellence; Henry Nicholls set off from gully in a split second, moving at speed across the outfield, all the time watching the ball high above him and over his shoulder while still running hard, before lunging forward at the precise moment and holding the most difficult of all of cricket's catches. Nicholls went ballistic. So did I. Not since Noel McGregor of Dunedin held his nerve and caught Everton Weekes of Barbados at Eden Park in 1955 had a single catch been so defining for New Zealand cricket. That was the moment which had prised open the door to a first-ever Test win. And Nicholls had turned this Test match into one which New Zealand could win. And would win: New Zealand crowned as World Champion of Test cricket. One name on the Mace: Ours.
This was a contest played in a great spirit throughout by two very good Test sides, with the best team on the day winning. Just about perfect.
Unless, of course, you happen to be Indian. But there will be a next time for India. No question. But there may not be a next time for New Zealand. So thanks go out to Virat Kohli and his team for treating New Zealand with the respect it deserved and behaving so impeccably when they lost. Kohli is not just a classy cricketer, he is also a classy human being.
Same goes for Kane Williamson. But there is one thing that has always annoyed me about Kane Williamson – the lack of emotion. I know and understand that his extraordinary ability to keep his emotions in check is the very cornerstone of his success. But just sometimes you wish he would look excited when he scores a hundred or wins an important game. Even slightly excited. I am excited but he just looks like he has finished clearing out the guttering at home. Even after his Test century at Lords in 2015, his name about to go up on the greatest honours board in cricket, he barely acknowledged anything or anybody as he walked through the famous gate and up past the MCC Members all standing to applaud him.
But there it was at Southampton: As he embraced Ross Taylor when the game was won Kane Stuart Williamson finally looked excited. And it was at this point that I knew it could not get any better than this: We were Champions of the World and the always impassive skipper was visibly delighted.
It had taken 332 Test matches and 47 years but I finally got there in the end. We all did that day.
And here was me hoping it would rain for six days. What a pillock.
Follow Euan on Twitter
Test Match Therapy series