The All Black and the Naughty Seat
0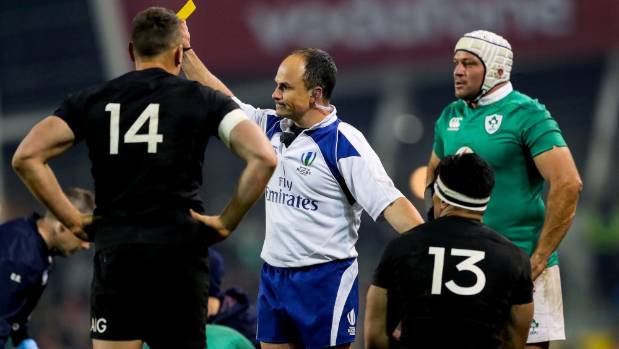 By Richard Gordon
During the All Blacks' 22-17 victory over Scotland, Sam Cane and Wyatt Crocket both spent 10 minutes in the naughty seat. Kieran Reid was very lucky not to join them. On each occasion, it felt like "here we go again" – it just seemed like this had all happened before.
It begged the question – how many yellow cards do the All Blacks concede?
After some amateur research, it is very clear that the All Blacks have a massive discipline problem when confronted with Northern Hemisphere teams and Argentina.
Since the start of the Rugby Championship in 2016 (and not including easy games against Italy, Samoa, Barbarians, and 'the game of three halves'), the All Blacks have played 23 games. 10 of these have been against their traditional Tri-Nations rivals – Australia & South Africa. The All Blacks have had only 2 yellow cards in these 10 games (both in 2016). This is the kind of discipline you would expect. Yellow cards happen – but shouldn't happen often.
In the same period of time, the All Blacks have played 13 games against Northern Hemisphere or Argentinian opposition. The All Blacks, astoundingly, have conceded an average of 1 yellow card per game (plus SBW's red card against the Lions). Teams do train and plan for playing with 14 men – but this should not be the norm – teams should not expect to play with 14 men every game.
What does this mean? Aside from the fact that the All Blacks have a big issue, it's possible to draw some conclusions (or further questions):
Why do the All Blacks struggle against Northern Hemisphere teams and the Argies? Is it because of the style of play? Or is it because of the often-apparent cynicism shown by those teams – who regularly stay down after dodgy hits and draw attention via the TMO? Or is it because these are the teams currently testing us – and Australia and South Africa no longer do on a regular basis?

It appears to be somewhat of a mix. Northern Hemisphere teams (and the Argies) like to keep it tight, go set-piece by set-piece, and build pressure – this is probably more likely to lead to yellow cards on the goal-line. Australia like to run it. South Africa don't know what they're doing.

The All Blacks make too many high tackles. The research shows that at least 5 of the 15 yellows were for foul play (mainly high tackles). Not good enough. We all know the costly effect of a dumb tackle (thanks SBW).
Is this a deliberate ploy by the All Blacks? The last two years have seen a large upswing in yellow cards conceded – is it a preference of the team to concede a yellow card to prevent a possible try, and continue to back their defence with 1 less man? This wouldn't appear to be the smartest way to win tests.
No matter the answer, it's a big problem. Playing 14 v 15 is hard enough, playing 14 v 15 against the teams that are catching us the quickest is just plain dumb.
Follow Richard on Twitter