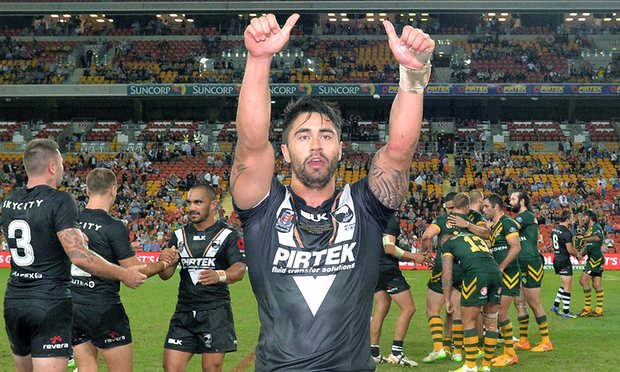 By Stephen Gallagher
The time is upon us, the Mid Year Test – or the ANZAC test as it was called. Regardless, this match has been in the works since this time last year where the Kiwis ran away with it comfortably.
The last time these two sides played at this venue  was 2011 – it was safe to say the Men In Black were thrashed, Russell Packer threw out an elbow or two – and Darren Lockyer played his last test on Aussie soil and came out victorious.
You could say for both of these sides, their 2011 teams are a ghost of who will be turning up for this match.
Before I get in to this match, perhaps it's just me – but I feel like there hasn't been a whole lot of hype surrounding this match.
Is that because the Kiwis are number one in the world?
Or is it because of the amount of change through injuries involved in this match?
Or – a concoction of energy drinks, sleeping pills, overpaid players and a bunker have taken the headlines this week?
Either way, I know by kick off – I will be ready for this match.
Mal Meninga have named a staunch side that will contest with the Kiwis, there's no doubts about that. They've almost picked every fullback in the NRL to play in their backline, recalled some old favourites – and blooding a Fijian and Samoan to play in the Green And Gold.
Stephen Kearney has done his best in his eyes, to make a squad which will complete four straight wins over their trans-tasman rivals and cement their top of the pops world ranking. Injury has somewhat crippled this side, but the replacements and debutante's will be ready to go.
HEY, KIWIS:
The Kangaroos smell blood. They'd hate to be embarrassed a fourth time against their little brothers.
The mongrel up front is going to give them a boost – they are old, yes – but they are players who are entrusted to bring pride back to their country.
Paul Gallen, Corey Parker,  and Josh Papali'I are guys who do not go backwards.
Broncos teammates Sam Thaiday and Josh McGuire will add some juice to the match from the bench.
However this game lies in their halves. The Queensland combination of Cronk and Thurston have caused headaches for a decade – and will continue to do so in for their country. Two fine players.
HEY, KANGAROOS:
The Kiwis love being underdogs, and over the last three years – they've taken on that tag and given it their all.
Don't let the missing players fool you, because those who remain will leave it all out on the park.
Lead around by the world's best prop Jesse Bromwich, then throw in the size and ability of Jason Taumalolo, Greg Eastwood and Adam Blair – this is quickly becoming a scary forward pack.
Johnson will have to take the line on like he typically does for his country – and the makeshift outside backs will have to have the game of their lives.
ON DEBUT:
AUSTRALIA:
Name a better winger than Semi this season, he is dynamite – and when he gets the ball in his hands – he is a joy to watch.
Blake Ferguson has toiled away in an unsuccessful NRL season for his club, but personally been strong. A rep jersey may just lift him to a great level.
This Cowboys is setting himself up for a solid career. Michael Morgan has gone from strength to strength over the last three years and is a player that has a solid green and gold future.
Josh McGuire is a beast. Screw tackling this guy, seriously. One of the guys who is always out there to compete week in, week out regardless of the score line is a handy player on any team.
NEW ZEALAND:
Dallin Watene-Zelezniak – I actually typed that all without spell check, go me!
It's third time lucky for this Panther. Previously being ruled out of a black jumper through injury and suspension finally finds his spot.
He knows how to find the white line, and is a strong, fast kid that is going to be a handful on attack. Handy under the high ball too.
Everyone knows the story of Manu Ma'u. From prison, to the black jersey and turn his life around is remarkable – no matter the crime he committed.
His club form this year is outstanding. A guy who is undoubtedly physical and tough who will add starch to this Kiwis team.
THE GAME:
I see another classic between these two sides. The experience Australia brings is unprecedented – but the mobility and size the Kiwis offer is worth mentioning.
Both these nations will compete until the final second ticks over on the scoreboard.
This match is going to be massive. There's so much at stake. The RLWC is only a year away – and a Four Nations tour at the end of this year will show who is in good shape as a squad leading in.
Look for Shaun Johnson to score the first try, and the Kiwis will win it by 1-7 points.
Follow Stephen Gallagher on Twitter