The Brilliant Blacks of 2015
0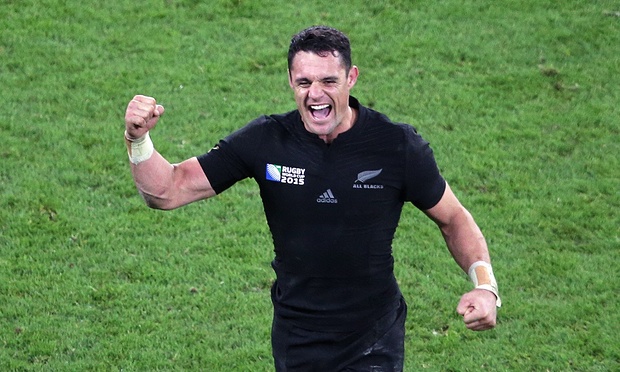 By The Spotter
This 2015 All Blacks side will go down in lore. Not just for their achievement in securing first-ever back to back Rugby World Cups, but for being damn good guys and for putting on a close-to flawless final display; in doing so providing that perfect, almost Hollywood-style ending to six  long and illustrious careers in the fabled black jumper.
Only three defeats in fifty-four tests is remarkable, especially in this day and age.  It is akin to a dynasty.  Consider all the pressures of the media-centric, professional environment the players are operating in.  The expectations from stakeholders, be it from the fans, the NZRU, Adidas and their other major sponsors, is tremendous and must be hard to take at times.  To be stronger at the end of a four-year reign between Cups is unprecedented also (by the way- where are the cries of a knighthood for Steve Hansen? If Graham Henry had one bestowed, why not 'Shag'?) So applaud this team till the cows come home – we may not see their likes for generations to come.  Their popularity is unbounded- there are an abundance of foreigners I know who admire someone like Richie McCaw just as much as we all do.  It's really quite staggering and a great barometer of the general feeling towards them.
One thing I enjoyed seeing above all else was the obviously unabashed joy of the team in the images captured in the time after the trophy presentation.  You can probably multiply the level of the nation's public joy by about ten for an indication of how happy and satisfied those guys were feeling right then.
And I reckon it might be an almost lay-down misere for this team to take out the Team of the Year at the Laureus World Sports Awards, with Dan Carter as an absolute, but realistic longshot for World Sportsman of the Year (ironically even though he has not been the All Blacks' best on show in 2015- that would be Ben Smith, Ma'a Nonu or Brodie Retallick, for mine). Remember folks, you heard it here first!
And a word on the often-maligned SBW.  It was an extraordinarily kind, somewhat outrageous act he performed in handing his medal to that boy. I can't believe he has been taken to task for it by so many.  So now he gets damned for being selfless, rather than selfish.  The poor bugger just can't catch a break with some, no matter what he does. In fact, it brings to mind a quote of what a promoter said decades back of Muhammad Ali (also once a great polariser of people): 'If Ali announced he were going to try walking across the Hudson tomorrow, half of those watching would be willing him to do it and the other half would be barracking for him to sink'.
Finally: no 'welcome back' event for Dunedin, the home of the reigning Super Rugby champions? Never mind the logistics and all, in the cold light of day that just feels wrong.