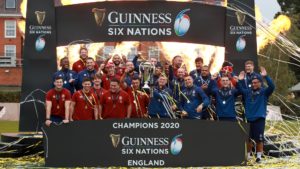 By Aiden McLaughlin
On Thursday night New Zealand time, the Six Nations completed a deal to sell a 14.3% share of their revenue to a private equity firm, CVC Capital Partners. The price? GBP 365 million (approx NZ$700 million). This percentage equates to a 1/7th share, making them, in effect, the seventh member of the Six Nations from a revenue perspective.
It's not CVC's first sports investment, far from it; in rugby alone, they have investments in the English top division (the Premiership) and the Pro 14 (which includes the top sides from Ireland, Italy, Scotland, Wales and more recently, the Southern Kings and Cheetahs from South Africa). The Luxembourg based company's most famous sporting investment before then was Formula One, which it owned between 2006 and 2017, before selling to Liberty Media. The year before the sale, the deputy team principal of Formula One team Force India, Bob Fernley, said of CVC's time in charge of the sport:
'All their actions have been taken to extract as much money from the sport as possible and put as little in as possible.'
CVC paid approximately GBP 1.4 billion for its majority stake in Formula One. Estimates suggest that it made up to GBP 3.5 billion in the 11 years that followed. They held on to Formula One for more than twice as long as their usual investments; at that rate of return, who could blame them?
When they sold Formula One, the value had increased to approximately GBP 8 billion, but the sport had changed, and not for the better. The hosting fees for race promoters rose hugely as state-backed venues took the place of traditional hosts. For San Marino, France and Turkey in the 2005 season, read Azerbaijan, Singapore and Abu Dhabi in the 2017 season. Many European tracks were repeatedly making a significant loss and, in cases such as Silverstone and Monza, in danger of bankruptcy.
TV coverage moved in the direction of many other sports by shifting away from free to air coverage to subscriber based services; in the UK, decades of BBC and ITV coverage were diluted in 2012, when the UK's primary pay to view provider, Sky, took over coverage of all Formula One races, with the BBC showing just half the races (10 of 20). Similar measures in other countries saw worldwide tv audiences fall by a reported 137 million viewers per year, between 2010 and 2018. The knock on effect of less exposure was that the sponsorship income directly earned by teams fell and teams were more reliant on the money from Formula One itself, i.e. tv and promoter fees income. The top teams got stronger, successful in getting the significant sponsors that were interested as well as the major prize money, while the less successful teams dropped further behind, relatively starved of significant third party income and unable to invest to stay competitive.
With that in mind, what have the Six Nations entered via their CVC arrangement? Firstly it's unusual that a private equity firm have bought only 14.3%; they would usually, in circumstances like this, be looking at 51% and a controlling interest. So, to depart from usual business practice, it must be worth CVC's while. CVC have not bought a slice of one or more of the six rugby unions here; instead, they have purchased a percentage of the combined, shared commercial revenue for those six nations. So, they cannot influence the way Scottish rugby manages rugby in Scotland, nor the Rugby Football Union in England etc; what they can influence however is who they sell their tv rights and sponsorship to.
It's also important to note that it is not only the Six Nations Championship revenue that is covered in the deal. The six unions have come together to combine their rights for their autumn internationals and the Six Nations Championship into one. Also, it is not just the men's competitions, but the women's too. At present there is no title sponsorship for the Woman's Six Nations Championship,  so any progress in this area is additional income straightaway.
Each of CVC's suggestions will need the support of at least three of the Unions. In addition, when CVC decide to sell their shareholding,  the Six Nations have the power to vet and reject potential buyers.
The GBP 365 million will be paid to the six unions over the course of five years but is is not evenly split between them. Instead, funds are allocated according to audience share; for example the RFU receive GBP 95 million over the period, and at the other end of the scale, Scottish Rugby get GBP 44.5 million.
The current deal for tv rights for the Six Nations tournament ends after the current season. At present, in the UK, this is shown free to air via a joint deal between the BBC and ITV. Although they will likely bid again for the new rights deal, it is certain that the likes of Sky Sports UK and Amazon will enter the bidding process too. Sky are close to CVC after their relationship in Formula One and would appear to be the front runners, but Ben Mornel, the Six Nations chief executive has said:
'We are in the process of collecting proposals (for the tv rights) in the next couple of weeks….It's about striking the right balance between exposure, active promotion of the tournament and financing, especially at a time when it's a difficult situation for everybody.'
It seems inevitable that a large chunk of the action will be placed behind a paywall, after all, that's where the broadcasting money sits and CVC are there to increase revenue first and foremost. Where would the sense be in selling them their share and then maintaining the status quo; there will be change, it's just a question of how much.
The biggest scope for income growth won't be the Six Nations Championship however; it will be around the test matches played in the autumn. In 2020, the traditional autumn international season, which would be made up of unconnected one-off tests, was repackaged (out of Covid related necessity) into a new concept, the Autumn Nations Cup. This was made up of The Six Nations, Georgia and Fiji, but going forward, expect this to be a bigger competition with the big southern hemisphere nations involved as well. As an offering with more structure and context than before, it's something that can attract more sponsors and television money.
As tenders start to be submitted and deals struck, expect plenty of announcements relating to the Six Nations income pool as the year goes on and CVC hit their stride.
Here in New Zealand, an official announcement of a similar ilk seems to be close. US technology investment giants Silver Lake are expected to be announced in the next few weeks as a new shareholder in New Zealand Rugby's commercial rights, following NZR's upcoming AGM. Stakeholders in the game, such as the provincial unions and the NZ Rugby Players' Association have been courted and although there may be some pushback, a deal is likely to be ratified. An offer of NZ$465 million for 15% of a newly created company, which will be responsible for maximising commercial rights, including broadcast, sponsorship, merchandising is on the table and after a year where income streams have been hit hard due to Covid-19, the prospect of additional, long term cashflow is an attractive one, even when selling 15% off to get it. With the total of those commercial rights valued at NZ$3.1 billion, it's clear that Silver Lake see huge untapped potential in NZ Rugby and in particular, the All Blacks brand. With worldwide experience in dealing with the likes of the UFC, Madison Square Garden Company (who owns the NBA's New York Knicks and the NHL's New York Rangers) Silver Lake have proven the ability to reach a worldwide market that New Zealand Rugby would struggle to get to alone.
The devil, of course, will be in the detail. Although the value of Formula One increased, it was at a cost to the viewer numbers, engagement, and competitiveness. The Six Nations certainly have more control of their own destiny through the structure of their CVC agreement, but there will be changes, with free to air rugby almost certain to be the first thing to suffer. The knock-on effect to participation levels and engagement levels will be monitored closely. For New Zealand Rugby, it is about worldwide expansion, but at what cost. Will the All Blacks take on extra commitments in new territories to sell the brand? Almost certainly. Will this mean players have to miss more Super Rugby to cope with those demands? Probably. Is there a scenario when the All Blacks squad will become even more inflated than we've seen in recent years, so they can cover multiple commitments all over the world? I'd guess so.
Outside financial investment is the new reality for rugby. It's here already and we're going to see more of it, but at what cost? The spin will always be big picture stuff, how it's crucial for the growth of the game, but will the agreements have a detrimental effect to the core players and fans. If they do, it's a rocky road, because without the grassroots, then what do you actually have to build from?
Follow Aiden on Twitter