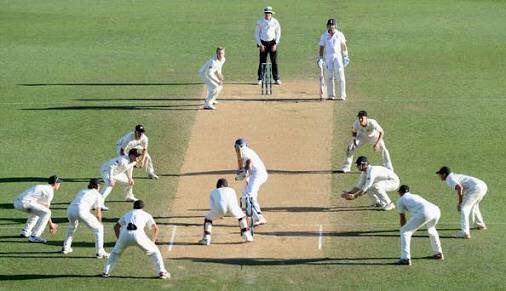 Today New Zealand requires 7 wickets in 98 overs to defeat England and beat England for only the fifth time on home soil.
Given the tourists made only 58 in the first innings you would thing they are a decent chance but hanging over them is the ghost of 2013 when England started the final day of a test at the same venue 4 wickets down and, somehow, ended on for a draw.
They entered that day after Alistair Cook, the man considered most likely to save the match, had been dismissed shortly before stumps.  In 2018 that player is Root.
Of all the test in the Hesson era that is the one that is said to grate the most; like here, the home side held the advantage throughout the match but could not do it on the final day.  The photo above, while an outstanding shot, does trigger emotions.
There were frustrations throughout that day but the stat that probably sticks out the most is that they lost their seventh wicket with 40 overs remaining.
Can they do it today?  The main hero five years ago was Matt Prior who came in just after lunch and was there at the end; notwithstanding that time when a ball from Wagner hit his stumps but the bails remained on.  Mirroring this, England's most resolute batsman on paper today would appear to be Johnny Bairstow.
Like today, the key spell in advance was seen to be the taking of the second new ball which, like today, was around the end of the first session.
They did lose a couple of wickets in that period but New Zealand also put down two gettable catches in the slip-gully region at that time.  It's an old adage, but if those had stuck….
The other thorn in the shoe looking back at that match was how Stuar Broad lasted 77 balls for his 6.  77 balls.
Surely that was a one-off but there is no reason why Woakes and/or Overton cannot bat for that long today.
New Zealand bowled 59 overs of spin in that innings, so there is one difference from '13.  It would be quite nice to see Astle given the ball at some stage though.  He is likely to pose a couple more questions than Bruce Martin did then.
Finally; the three front-line seamsers for New Zealand on that day?  Boult, Southee and Wagner.  And Boult had taken 6 wickets in the first innings; his best test return at the time.
It remains to be seen whether the pink ball, heavy air, dusk and lights can be the difference.
And, with just over an hour to go, there is this (note they were specialist batsmen).
March 26 in Eden Park on 5th day:

2013: England lost 7th wicket at Tea – Ian Bell (75) c Southee b Wagner
2018: England lost 7th wicket at Dinner – Ben Stokes (66) c Southee b Wagner#NZvENG

— Sampath Bandarupalli (@SampathStats) March 26, 2018