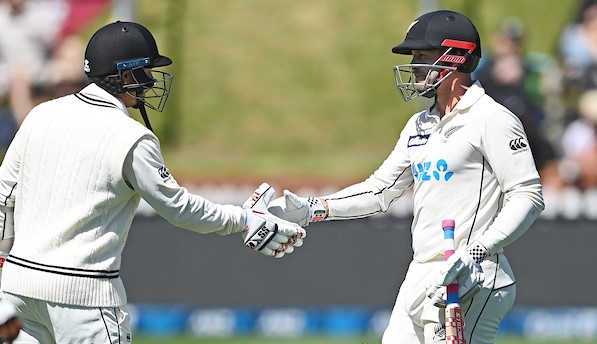 With all the Conwaymaia chat going on this season a New Zealand innings has the feel of a series of revolving job interviews.  And with Williamson missing more batsmen than normal got to take part.
Blundell, Young, Nicholls, Conway and Phillips (technically the incumbent replacement #5) are battling away for two spots.
Blundell seemed pretty comfortable at the top of the innings before getting bowled through the gate by one that really jagged back in from Gabriel
Ross Taylor missed or edged seven of the 12 balls he faced in his brief innings. He's never played more false shots in the first 12 balls of a Test innings before.
Then the double job interview 70 run partnership between Young and Nicholls followed.  Both looked comfortable for the most part, but had regular scares which was attributable to the nature of the pitch that kept the bowlers interested throughout.
The variation in seam movement lasted the whole day, and at no stage did anyone look totally "in".
Where they differed massively was in the luck department.  Nicholls was dropped six times, and most of them were embarrassingly straightforward.  In contrast Young departed for 43 courtesy of an absolute screamer by Jason Holder in the slips.
It was a timely knock for Nicholls; converting his first half century in 14 test innings into his sixth test century.
Sometimes you get sawn off early, sometimes you get lucky.  And when you get lucky you make the most of it.  It is a knock around which a pretty decent total has been accumulated, and he's there in the morning.
Test centuries don't need to be fluent or perfect, and this one was neither.  But he hung in there, and kept playing his shots when he could.  A very good job interview.
The theory with BJ Watling is that he is at his best when coming in with NZ in deep trouble, yet never cashes in when the team is on top.  Here, he came in with the innings pretty balanced so it seemed right that he should produce a middling score.
Darryl Mitchell is probably seen as a substitute rather than a rival for Colin de Grandhomme's place in the team, but his was a decent day out as an intern.
The West Indies were a real mixed bag.  Their bowling was vastly superior to what it was in Hamilton, but that fielding was memorably bad.
There has been a fair bit of hype surrounding Joshua de Silva which includes some pretty dramatic weight loss stats.  With the exception of possibly the worst dropped catch he was pretty tidy.
Where they once again disappointed was in their over rate.  23 overs in the first session, and 26 in the second.  This meant an automatic half hour extension to the final session, and they still finished 7 overs short.  The ICC really has a battle on its hands here.
It was also a good day to be a seagull today.