At the lunch break a learned follower of the game observed "If we can't get these f*ckers out, how are we going to go against South Africa?"  And that was at lunchtime.
When Southee ended Monimul Haque's fine innings early this morning with one that reared on him it looked as if the home side had got its rhythm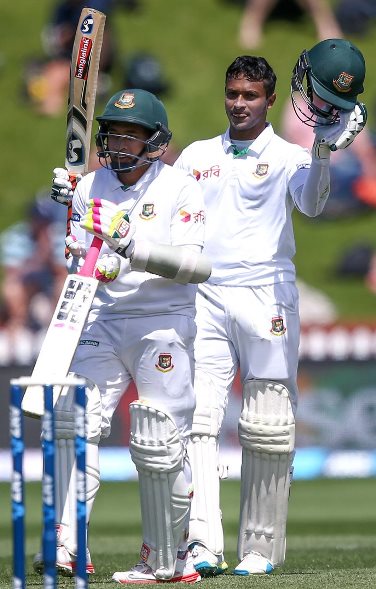 back and Bangladesh might not hang around for too long today.  They were 160/4 and an inexperienced tail was to follow.
But Bangladesh had other ideas.  They didn't put up with yesterday's zephyr to throw it all away; the sun was out, the pitch was probably at its flattest and they were not going to miss out.
Shakib Al Hasan and Mushfiqur Rahim spent the afternoon spent the afternoon casually knocking off all the records they could think of.
At first they were niche records; highest 5th wicket partnership vs New Zealand and then got broader in their nature.  Highest 5th wicket partnership against anyone, highest any wicket partnership v New Zealand, highest any wicket partnership against anyone, highest any partnership by a visiting side to New Zealand before they started honing in on truly international ones.
The things people do in order to get a commemorative plaque at the Basin Reserve.
And they did it all at well over four runs an over.  Al Hasan's second century came at just shy of a run a ball.  He added in the highest score by a Bangladesh player in tests record for good measure.  Some of his late cuts were as good as you will ever see.
This was the best day in test cricket for Bangladesh away from home, and one people will remember for a long time.
They have not played test cricket away from home in 2 1/2 years and they had something to say.  Obviously it is too early to judge whether this was a breakthrough performance, but it was still really impressive.
Boult started with the second new ball well, before deciding to spend a lot of time switching sides of the wicket, which seemed a little odd.  Southee had a day he'd rather take back.  It started with him hurling the ball at Al Hasan's ankle, and was highlighted with a super optimistic review for a caught behind with the same player.
Wagner was consistent with his approach but the Bangladesh batsmen played him with discipline followed by increased confidence.  De Grandhomme and Santner never really threatened.
The wagon wheels do not make great reading either, with an awful lot of runs being scored square of the wicket.
Of possibly more concern was the fielding which dropped away as the records fell. There was the full range of issues there; dropped catches, missed run-outs, moving the wrong way on the boundary..
The partnership finally finished at 359.  That was the fourth highest 5th wicket partnership off all time. For context, in third place on that list is 376 – between Dravid and axman in a reasonably famous test.
Well we wanted tough competition, didn't we?