The Tokyo Diaries – 24th July
0
By Keith Miller
And, just like that, we are underway in a hail of sport.   Day One proper had a myriad of disciplines on offer, resulting in the TV remote receiving one hell of a workout.  I told you the viewing times here would be great.
For most in New Zealand it started with the rowing heats, where Kerri Gowler and Grace Prendergast cruised through their Coxless Pairs heat.  They afforded themselves the luxury of slowing their stroke rate down over the last 600 metres or so to conserve energy for the Eights later in the day.   There, the men battled into a repechage, while the women (curiously referred to as the All Blacks all the way through the race) won their way through to the next stage with a perfectly timed run.
In the hockey, New Zealand went down 3-2 to India, after failing to capitalise on a rash of Penalty Corners, and conceding a Penalty Stroke, in the first quarter.  In sapping conditions, the Indians looked the stronger team throughout the game and were deserved winners.  The big talking point however was the awful technology on offer for video replays.  The game was paused for extremely lengthy periods while pixelated images from hopelessly poor camera angles were attempting to be decoded by the TV umpire.   It drew the game out far longer than it needed to be, and it is an issue that needs to be addressed pronto.
The most shocking incident came in the following game when Argentinian munter Lucas Rossi hit Spaniard David Alegre in the head with his stick after the final whistle, whilst Alegre was on the ground receiving assistance for cramp (below).  From another Argentinian no less.
Then it was off to the Fencing, where there was a major upset in the Mens Sabre round of 32.  World #3 Italian Luca Curatoli was leading Romanian World #41 Iulian Teodosiu 10-5.  Teodosiu tied it up with 5 consecutive points, before some more to and fro saw it tied at 13-13.  The Romanian clinched the last two points and it was game over.  It was a fascinating watch.
Watched some Tae Kwon Do.  There's 30 seconds out of my life I'll never get back.
Heartbreak in the Women's 49kg division for 18-year-old Belgian Nin Sterckx, whose right elbow wobbled just enough for two of the three judges to call a failed attempt.  She placed fifth, and was out of medal contention anyway, but she is definitely one to keep an eye out for in 2024.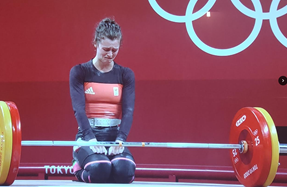 The Men's Cycling Road Race was a cliffhanger, with unfancied Ecuadorian Richard Carapaz finally breaking clear of Brandon McNulty from the USA and winning by just over a minute.   There were some plucky performances and with a couple of tricky hill climbs thrown in, it made for great viewing.
From a New Zealand perspective, the highlight was clearly Lewis Clareburt's performance in qualifying second in the Men's 400mtr Individual Medley.  It was a stunning performance, creating an Oceania Record in the process.   Hopes are high that he can convert this into a medal on Day Two.
Not such a highlight was the Football, where the USA crushed New Zealand 6-1, with a further 4 goals ruled out for offside.
Watched some Judo.  There's another 30 seconds out of my life I'll never get back.  But there was this bloke in the gymnastics who simply doesn't need to use his fingers in one of the toughest events going…
Follow Keith on Twitter.
You can find more on the Tokyo Diaries, here.